DeSantis Just Made Record-Breaking Florida History – Ron Shames Blue States as He Scores 30 Consecutive Months of Job Gains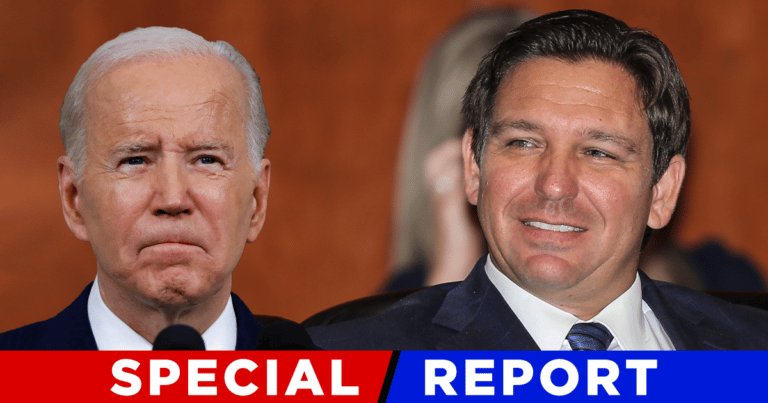 What's Happening:
If we tried to list all the ways Biden's tried to destroy the economy–we'd run out of room. But here are the biggest blunders of the administration. First, he triggered rampant inflation with reckless, government spending. Then, Biden shut down our energy industry, causing gas prices to skyrocket. Worst of all (perhaps) has been his inability to address the supply chain crisis, which has been ignored for almost two years.
And that's not getting into the other was Biden and the Democrats shut down America, threatened millions of jobs, and derailed entire communities. But among the rampant failure, there is an incredible silver lining. One state has defied the odds to see record growth. And guess which state that is?
From Just the News:
Job gains have continued in Florida for 30 consecutive months, new labor data shows.

Florida's seasonally adjusted total nonagricultural employment was 9,542,500 in October 2022, an increase of 36,400 jobs over the month. The Sunshine State gained 457,400 jobs over the year, an increase of 5%, higher than the national rate of 3.6% over the year…

Florida lost 1,282,500 jobs from February to April 2020 and has since gained back all jobs lost, adding 1,749,500 jobs.
Wow. Despite COVID, the recession, a historic hurricane, and relentless attacks from Democrats, Florida has enjoyed 30 months of straight job growth. This, while most states have seen their economies stagnant and fail.
Keep in mind, Florida has not been immune to the same inflation and high gas prices as everyone else. And they've had bigger challengers, like the devastating aftermath of Hurricane Ian. Yet Florida has done what no other state has done.
Why? It's no mystery. Republican Gov. Ron DeSantis bucked trends to keep Florida open and working. When other states (even red states) shut down for nearly a year, DeSantis quickly reopened Florida. He worked overtime to avoid the mandates and restrictions that caused a ripple effect of disaster in other states.
Americans flocked to Florida in 2020 and 2021, because it was open. And they weren't just vacationing. Many Americans fled blue states to relocate to Florida.
DeSantis also rewarded police departments, when other states defunded them. He battled Hollywood, woke school boards, and of course the Biden administration. All of this resulted in a free and thriving state–with unprecedented job growth.
If other Republicans don't follow DeSantis' lead, they really don't deserve to lead at all.
Key Takeaways:
Florida has enjoyed 30 months of straight job growth.
DeSantis refused to stay shut down and did not implement crippling mandates.
The state recovered all lost jobs and is adding more, despite the recession and other challenges.
Source: Just the News