Seconds After Reporters Go Woke on Top NFL Coach – He Throws a Bucket of Ice Water on their Racial Antics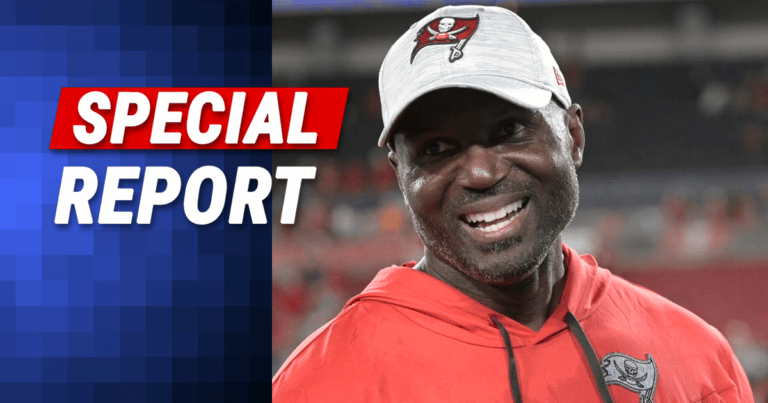 What's Happening:
In this age of liberal madness, Democrats have decided to make everything about politics. You can't read a book, watch a movie, or even attend a ball game–without some whiney leftist trying to inject their activism into it.
The more this happens, the more Americans are ditching traditional forms of entertainment.
Recently, a group of spoiled, "woke" reporters tried to get Buccaneers coach Todd Bowles to join in on the politicizing of his sport. But the respected head coach did not take the bait. In fact, he put them to shame.
From Daily Wire:
One reporter asked Bowles about how he and Tomlin are "two of the few black head coaches in the league," what their relationship was like…

"We don't look at what color we are when we coach against each other. We just know each other. I have a lot of very good white friends that coach in this league as well."

"And I don't think it's a big deal," he added. "As far as us coaching against each other, I think it's normal … and we coach ball. We don't look at color."
Wow, someone in the public eye with a reasonable view that is shared by millions of Americans?
Is this 1985???
Reporters tried to turn an interview with head coach Bowles into a chance to spread their racial identity politics. It seemed they were goading the coach into whining, like so many others in professional sports, about race.
I'm sure they were hoping he'd say a few words about "representation" and "diversity." Or perhaps they were hoping he'd accuse the NFL of "discrimination" as a certain former quarterback did for years.
Instead, he threw cold water on their little game. He said he had a good relationship with Coach Tomlin, another black coach. But he refused to indulge these reporters in their secular religion. He said that it's about coaching ball. Neither he nor his colleagues "look at color."
Which was a sentiment that was totally acceptable, just a few years ago. But today, the left is forcing the issue of race to advance its agenda. Everything has to be about race, sexuality, gender, or one of the left's other tenants.
We can't say or do anything unless it acknowledges Democrats' ever-changing dogma. If you disagree with them or offend them in the slightest, they will excommunicate you from society.
Although Coach Bowles is black, we can expect attempts by the left to destroy him, because he refused to bow the knee.
Americans must, in response, support him.
Key Takeaways:
Buccaneers head coach Todd Bowles refused to play reporters' woke games about race.
During an interview, he said coaches don't look at skin color but simply coach ball.
This comes as Democrats have used entertainment and other corners of culture to push woke politics.
Source: Daily Wire