After Former Trump Aide Smears Melania – She Quickly Sets the Record Straight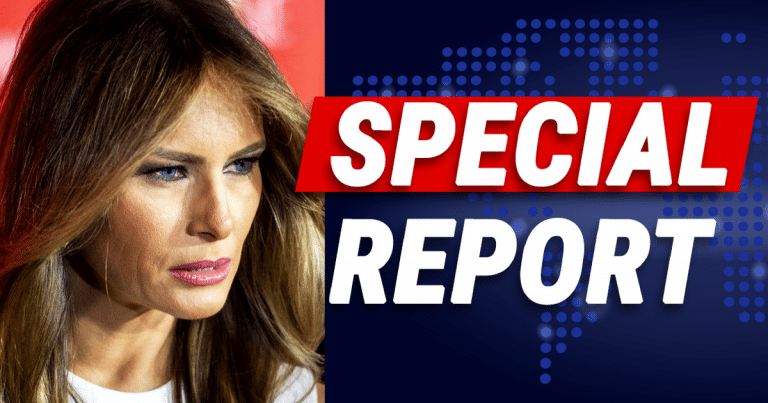 Historically, former First Lady Melania Trump is a kindly, soft-spoken individual. Her public persona is almost the opposite of her husband's bombastic personality.
Many of her fans appreciate her class and tact, especially in regards to hot-button topics. Melania has skillfully steered clear of the dirtier issues in politics and her comments are rarely, if ever, inflammatory.
But when she found out about a former aide secretly recording her comments, Mrs. Trump was not pleased.
And this time, she let the world know it — in a more fiery manner than we typically see from her.
The former First Lady ripped both the mainstream media and her former aide, Stephanie Wolkoff, concerning remarks about Melania's White House Christmas celebrations.
Wolkoff allegedly leaked secretly recorded and "out-of-context" comments where Melania vented some frustration over how the media reported on her Christmas decorations, and how the media was covering the border issue.
The comments are as follows:
OK, and then I do it and I say that I'm working on Christmas and planning for the Christmas and they said, 'Oh, what about the children that they were separated?'

Give me a f****** break. Where they were saying anything when Obama did that? I can not go, I was trying get the kid reunited with the mom. I didn't have a chance – needs to go through the process and through the law.
This was all part of a broader exchange at the time, and other comments didn't make it into the papers.
Now, Melania Trump has issued a statement in response to Wolkoff's leaked recordings, and adds that the former aide "spitefully edited" the remarks as well. That's a fairly serious accusation.
Here's part of that statement:
While I was serving as First Lady of our country, Stephanie Wolkoff secretly recorded several of our conversations.

Wolkoff then spitefully edited and released our conversation to create the perception that Christmas is not significant to me.

I will personally set the record straight because the mainstream media has failed to provide context for these misleading exchanges.

Christmas is an important time for me, my family, and the American people, and my devotion to the holiday is personal and profoundly serious.

Most people will agree that reuniting migrant children with their parents is more important than discussing Christmas decorations during summertime.

The fact that Wolkoff deleted this part of our conversation, where I expressed hope to reunite families split apart at the southern border, exposes her malicious intent.
Mrs. Trump finished by saying that Wolkoff is "untrustworthy" and that her contract with the First Lady's Office was terminated in February 2018.
Wolkoff was fired, unsurprisingly, because she violated the confidentiality clause of her White House Employment Agreement. However, the damage was done before the termination.
Melania's Christmas decorations were generally well received when Donald Trump was in office, and she takes great pride in designing ornaments and other decorations for that important holiday.
In fact, you can find ornaments she designed at USA Memorabilia and MelaniaTrump.com.
And when people who she's supposed to be able to trust leak edited, private conversations to the media, that's good reason to get angry. Mrs. Trump doesn't get angry often but this time, it feels justified.
Key Takeaways:
Melania Trump has fought back against a former aide who recorded and "spitefully edited" Mrs. Trump's Christmas decoration comments.
The former FLOTUS said the media "failed to provide context for these misleading exchanges," and Wolkoff is "untrustworthy."
Wolkoff was fired in February 2018 for violating the confidentiality clause in her employment contract.
Source: Breitbart