After Fox Snubs Judge Jeanine Again – Donald Gives Them The 'Trump Hand'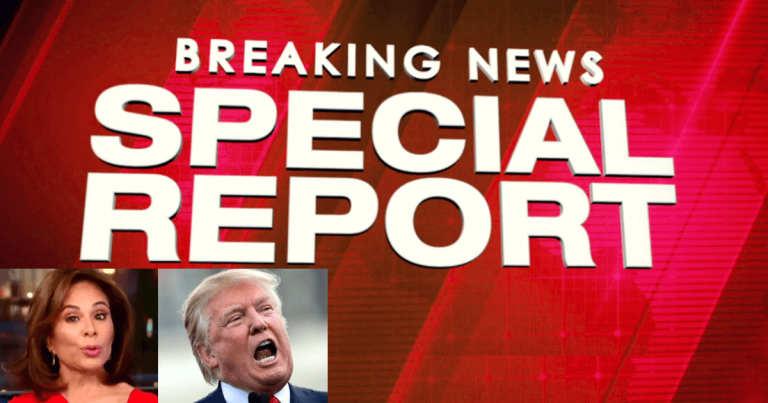 Fox had better be worried – Trump turned up the heat to an 11.
Fox News got itself in big trouble this week, and President Trump has taken notice.
First, they suspended Judge Jeanine for two weeks and will have her show pulled for the second Saturday night. Then they hired Donna Brazile, former DNC chair, who immediately defended John McCain against Trump.
And finally, Fox Corp. hired former Speaker Paul Ryan as a board member, who was often a thorn in Trump's side.
C'mon Fox, get a grip!
Well Trump has had it, and he's treating Fox News in a way he usually reserves for CNN. From Newsmax:
President Donald Trump appeared to ignore Fox News chief White House correspondent John Roberts after taking questions outside the White House on Friday, and seemed to glare at the reporter as he walked away.
WHOA! But wait, it gets even worse.
Other reports mention that Trump held up his hand to Roberts to tell him he would be taking no questions from Fox.
That's what happens when you get on Donald's bad side!
Trump is joining in with thousands, and maybe millions, of supporters who are demanding they reinstate Judge Jeanine right away.
Fox News stood as one of the few media outlets who seemed fair and balanced, not run by the Democrat Party.
But with all these moves against Trump in just a week, Donald has had ENOUGH.
Donald may be able to match Obama's approval ratings even with most of the media against him, but frankly, he needs Fox if he wants to keep getting his message out.
And because he needs them, he needs them to get in line. And start acting like the only fair media left in town.
Fox currently stands at the top of cable news ratings, while CNN has slipped down to the bottom, Trump could quickly end their dominance by shutting them out.
This may seem like a little moment between Trump and Roberts, but Fox just got a big message.
Cover me fairly or get no coverage at all.
Trump is fighting back, but he needs his supporters to solidly stand with him against the liberal media.
If you stand with him, support him by SHARING this story!
Source: Newsmax