Matt Gaetz Sends Adam Schiff Spinning – The Top Republican Renames New Bill, Calls It the "PENCIL Act"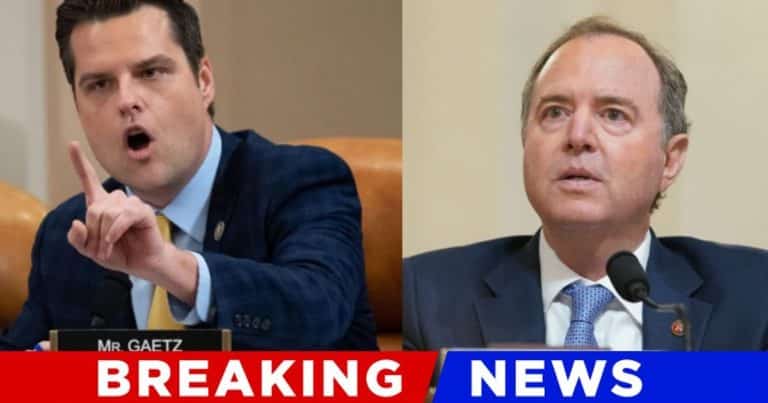 Ever since Republicans took over the House of Representatives, we've seen plenty of fireworks on Capitol Hill. New Speaker Kevin McCarthy obviously isn't sitting on his laurels.
Other big-name GOP members are making moves as well, and this includes controversial Rep. Matt Gaetz (R-FL).  He recently took a shot at Rep. Adam Schiff (D-CA), one of the right's favorite targets.
This time, Gaetz renames a piece of legislation — and Schiff isn't laughing.
Back in 2019, then-President Donald Trump gave Schiff the "little pencil neck" nickname, and it stuck. Gaetz is taking advantage of that by introducing a new law that specifically names Schiff.
Maybe it's not a coincidence that this legislation involves classified documents, a topic that has dominated headlines since President Joe Biden was found to have multiple classified papers in numerous locations.
Via The Daily Wire:
U.S. Rep. Matt Gaetz (R-FL) reintroduced legislation Thursday titled the 'PENCIL Act' that would call to ban fellow Rep. Adam Schiff (D-CA) from handling any classified information.
Rep. Gaetz calls it the "Preventing Extreme Negligence with Classified Information Licenses," which fits "PENCIL" nicely.
Gaetz told The Daily Caller that Schiff "led the effort for years to weaponize lies from the Clinton campaign and a corrupt Department of Justice to smear President Trump."
The Republican is officially reintroducing the legislation now that McCarthy is in charge, and it's coming after the new Speaker tossed both Schiff and Democrat Eric Swalwell from the House Intelligence Committee.
Said Gaetz:
Speaker McCarthy kept his promise to remove Rep. Schiff from the Intelligence Committee, and with the PENCIL Resolution, we will express the sense of Congress that he should be barred from accessing any classified information at all.

He can no longer be trusted by his colleagues in Congress or the American people.
McCarthy got a lot of attention for booting Schiff and Swalwell, and he also wants to remove Rep. Ilhan Omar (D-MN) from the Foreign Affairs Committee, though that will require a House vote.
Schiff replied to the PENCIL Act by posting on the Chinese app TikTok that McCarthy removed him "for doing my job, for holding Trump accountable, and standing up to the extreme MAGA Republicans."
He also denied ever taking any classified documents to his home.
However, Gaetz's legislation sends a strong message: we need to better protect our classified documents, as evidenced by the latest scandal surrounding Biden.
On top of that, many Republicans claim that Schiff has given good reason in the past not to trust him with sensitive material. This is the basis for Gaetz's rule, and many GOP members are likely to agree.
Key Takeaways:
Rep. Matt Gaetz renamed new legislation, calling it the "PENCIL Act."
The legislation targets Democrat Adam "Pencil Neck" Schiff, and would ban him from accessing classified material.
Gaetz said Schiff "can no longer be trusted by his colleagues in Congress or the American people."
Source: The Daily Wire