Matt Gaetz Files Complaint Against Twitter – Hits Them With Domestic Election Interference Charge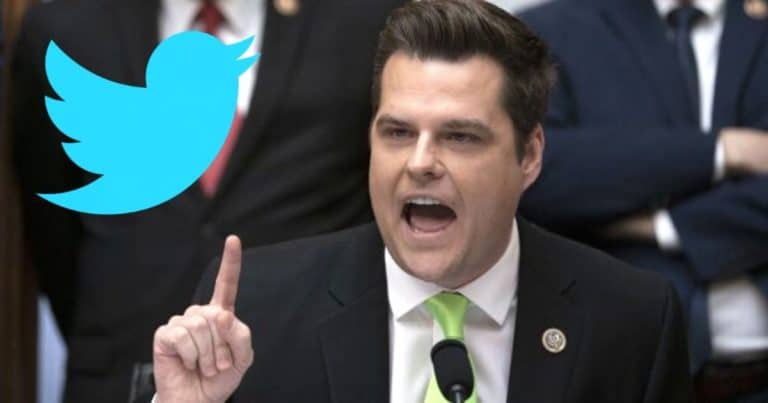 Twitter is trying to interfere with what President Trump says on its platform. But Republicans refuse to accept it.
The president signed a historic executive order to punish social networks that limit free speech. Other lawmakers have proposed legislation to revoke their Section 230 immunity.
And now, Matt Gaetz is taking another step to hold Twitter accountable.
From Twitter:
#BREAKING: I'm filing a complaint with the Federal Election Commission because of Twitter's domestic election interference against President @realDonaldTrump.

If we just wait around, big tech will steal this election from @realDonaldTrump and the American people.
Gaetz just announced on Twitter that he's filed a complaint with the FEC over what he calls Twitter's "domestic election interference."
He says that if we do nothing, big tech will "steal this election" from Trump and the American people.
Our Take:
We've covered social networks' apparent censorship for a long time. It appears big platforms want to silence conservatives. Now, that includes the president himself.
You'd be hard press to convince many Americans that Twitter isn't trying to influence the election.
With November just a few months away, liberals are desperate to remove Trump from office.
They tried to impeach him and failed. Now, they're hoping the media world will help them discourage people from voting for him.
With Joe Biden as their presumptive nominee, they're going to have to work even harder to oppose Trump.
Gaetz, along with many conservatives, is working to call out Twitter's questionable speech policies. Often, we see social networks come down hard on Trump supporters, but ignore clear violations by liberals.
An FEC complaint might go all the way in holding Twitter for possible election tampering. But it will be a fight, no matter what.
Social giants will do whatever they can to wiggle out of the consequences of their actions. It will take intense pressure from lawmakers and Americans to get them to change.
SHARE if you want Twitter held accountable.
Source: Twitter