Gavin Newsom Unleashes on President Biden – He Claims Joe Is About to Flood California by Cancelling Title 42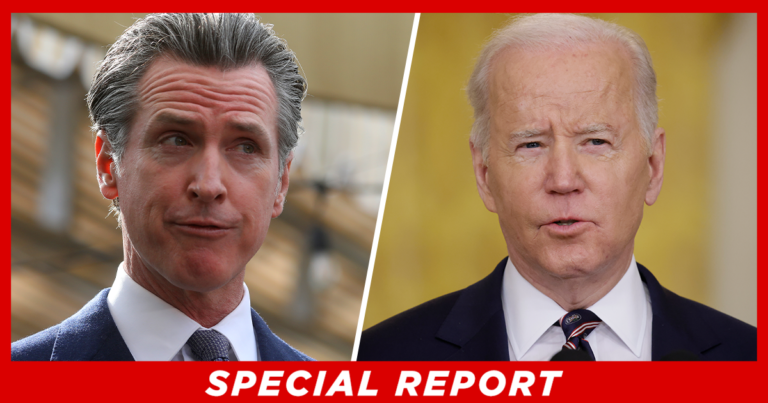 What's Happening:
Okay, Gavin Newsom. We're onto you. The Democrat Governor of California has recently claimed he is in no way interested in running for president in 2024. Yet, everything he's done recently betrays that.
He's making the rounds in the media, trying to elevate his profile to the national level. And he's been waging a long feud with Ron DeSantis, the GOP frontrunner. But what he just did proves he is making himself out to be a Biden opponent. Because he just blasted Biden's failures on the border.
From Fox News:
Democratic Gov. Gavin Newsom of California warned Monday that President Biden's plan to reverse former President Donald Trump's border policies could "break" his state…

Newsom, speaking to ABC News on Monday, said, "The fact is, what we've got right now is not working and is about to break in a post-42 world unless we take some responsibility and ownership."
Gov. Newsom blasted Joe Biden for his attempts at lifting Title 42. This rule allows border officers to quickly remove illegals who jump the border. But once that rule is gone, there will be an even bigger flood of aliens crossing into the U.S.
Newsom almost sounds like a Republican when he complains about Biden's lack of willingness to address the crisis. California, mind you, has not done what Arizona or Texas has done to stop illegals from entering.
Newsom and his Democrats have been welcoming countless aliens into the state. They process them at several sites and give them places to live (as well as food, money, and in some cases jobs). Yet even Newsom knows that, if Title 42 is lifted, California will be ruined.
Despite what he claims, California does not have the resources to support millions of illegal aliens. The once-Golden States is looking at massive deficient next year, to the tune of billions. At the same time, Democrats are pushing for costly welfare programs, including handing out hundreds of thousands of dollars in "reparations" to black voters–I mean, honest, hard-working Americans!
Can Gavin afford all of that, while still rolling out the red carpet for illegals? Doubt it. He is looking at a lose-lose situation and is finally getting in line with governors like Greg Abbott.
Even still, openly defying Joe Biden is extremely rare among Democrats. We can't ignore Newsom is doing this for his own benefit first. As Biden's 2024 prospects inevitably crumble, Newsom's name will be first on the list.
We're not fooled, Gav.
Key Takeaways:
Newsom criticized the Biden administration over ending Title 42.
California is already overwhelmed with the number of illegals entering.
Newsom could be positioning himself for a 2024 bid.
Source: Fox News