Gavin Newsom Loses It On Live Video – California Governor Under Recall Threat Unleashes On Reporters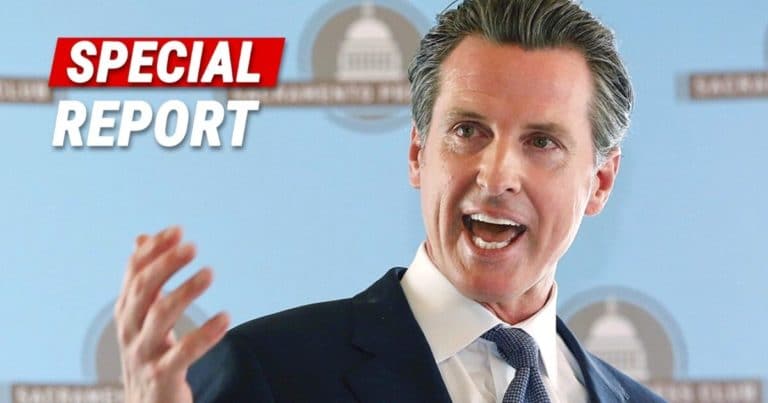 What's Happening:
What was once a pipedream could soon become a reality. Next month, California voters will decide if they want to recall Gov. Newsom.
The once-popular governor saw his star fade as he defied his own lockdown orders. A petition gained traction, earning nearly 2 million signatures to trigger a recall.
It was still a long shot that he'd be recalled, though, until Larry Elder entered the race.
Now, it's very possible that Newsom will be rejected and a conservative take his place.
And it looks like the pressure is getting to Newsom—he lost it recently on a live video as his "supporters" hammered him with questions.
From Twitter:
Wow watch all of this pic.twitter.com/MJLXAKp0QU

— Cernovich (@Cernovich) August 11, 2021
"It would be nice if our homegrown team would be focusing on what's right. Everybody outside this state is bitching about this state," Newsom ranted to the writers.

"Guys, forgive me, I know I am a little pointed today but I've been taking a lot from you folks for a lot of months," Newsom said gesturing toward the reporters behind the camera. "I should be able to express myself, too."
During a video call with liberal reporters, Gov. Newsom showed clear signs of frustration and anger.
The man snapped as reporters appeared to hammer him over a number of issues facing the state.
It seems the governor was trying to defend himself as he blamed his "team." He claimed they should be "focusing on what's right" with the state, not what's wrong.
But it's hard to ignore the mounting problems with California. Crime and homelessness are out of control. The cost of living continues to rise, as affordable housing is nearly non-existent.
And the exodus is only growing, as some neighborhoods are dotted with abandoned houses.
Newsom tried to deflect by claiming people outside the state keep b**tching about it. Well, Newsom, you brought it on yourself.
It's painfully clear Newsom isn't hopeful about the future. We can't predict what will happen on September 14, but it's very possible Newsom will be rejected.
And the man doesn't seem willing to do anything to save his skin. He's spent years pandering to the radical left as the state's declined.
Now, with his career on the line, he seems to be throwing a temper tantrum.
Key Takeaways:
Gavin Newsom blows up at reporters during a recent video call.
He seems to blame his "team" (perhaps also reporters) for focusing on the negatives.
This comes as he faces a close recall election next month.
Source: Twitter