Georgia Democrat Caught in $450K Hypocrisy – Abrams Tied to "Abolish the Police" Group, But Her Security Costs a Fortune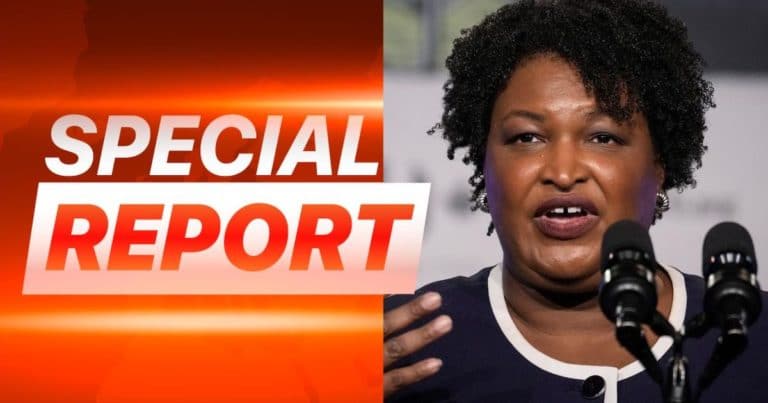 Democrats face a number of controversial issues as we enter the midterm election season. One of them involves the left's questionable stance on law enforcement, which has faced plenty of backlash.
Famously known as "defund the police," liberal politicians have been accused of diverting necessary funds from police departments to "community" endeavors designed to lower crime.
However, with crime soaring around the country, right-wing officials and citizens claim this simply isn't working.
On top of that, many high-ranking Democrats have plenty of security — this includes one Georgia liberal who has spent hundreds of thousands.
Gubernatorial nominee Stacey Abrams has often talked about re-allocating funds for law enforcement, even though she has denied supporting "Defund the Police."
Most critics point out that she's a board member of a foundation that wants to actually abolish police entirely, and the fact that she routinely drops a fortune on protecting herself with armed security.
Now, the numbers are painting an even more hypocritical picture, according to conservatives.
The Abrams campaign has dropped nearly a half-million dollars on security in the past few years. That has resulted in even more scrutiny regarding her views on law enforcement.
From Fox News:
Georgia's Democratic gubernatorial nominee Stacey Abrams has paid hundreds of thousands of dollars for private security through her campaign since December 2021 when she launched her second bid for governor…

Between December 2021 and April 2022, Abrams' campaign doled out over $450,000 to Executive Protection Agencies (EPA Security), an Atlanta-based private security firm.
All told, the Abrams campaign offered nine payments to EPA security, each one ranging between $39,335 and $56,760.
If this story sounds familiar, that's because it isn't the first time Abrams has been called out for spending big dollars on private security:
The Fair Fight PAC is a committee Abrams launched some time ago, and that alone spent a whopping $1.2 million on security services in 2021. That report certainly made waves when it released earlier this year.
While this news circulates, Abrams still swears that she supports increased police funding — again, despite her ties to the Marguerite Casey Foundation.
That isn't flying with many law enforcement officials, though. Just last week, over 100 Georgia sheriffs slammed Abrams for her "soft-on-crime policies," and chose to support opponent Gov. Brian Kemp.
The aforementioned foundation has often said they want to defund and even abolish police, and this does appear to clash with Abrams' insistence that she doesn't support the movement.
During the riots of of 2020 following the George Floyd incident, Abrams was one of many Democrats who tried to rebrand "defund the police" into something else. Namely, "reformation" of law enforcement.
But with crime hitting new highs in many parts of the U.S., talks of "transforming" the police are starting to fall on deaf ears.
Most citizens simply want the police to do their jobs, and there needs to be enough officers for residents to feel safe. Abrams likely feels safer with her pricey personal security, that's for certain.
Key Takeaways:
Georgia Democrat Stacey Abrams has spent over $450K on private security.
This is added to the $1.2M her campaign reportedly spent last year, though she's a board member of a group that has supported defunding and abolishing police.
Last week, 100 Georgia sheriffs ripped Abrams for her "soft-on crime" stances.
Source: Fox News