Trump's Grand Jury Burns Down in Flames – The Impatient Media Just Let 'Witch' Juror Torch It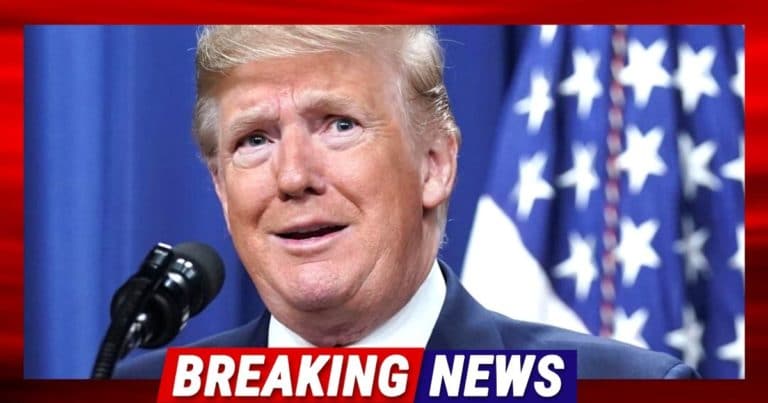 What's Happening:
Democrats and the liberal media have been salivating over the idea of sending Donald Trump behind bars in an orange jumpsuit… but they may have just ruined all their crooked plans.
Because apparently they did not see coming an enthusiastic foreperson on the jury who really wanted the spotlight. Which is the last thing the public should be hearing about while charges are considered.
And the liberal media bit, hook, line and sinker. From Talking Points Memo:
Emily Kohrs, a 30-year-old between jobs, was first interviewed by the AP for a story published Tuesday morning. Other interviews soon followed, culminating with the on-camera sit-down with NBC last evening.

Kohrs walked right up to the line of discussing grand jury deliberations, which she and the other grand jurors were ordered by a judge not to do. She all but confirmed that the special grand jury recommended that former President Trump be indicted.
"Walked right up to the line"? Oh, if you've seen the video, you show she was jumping all over that line. And she quickly corrupted any future juror in Fulton County with her comments.
But what might be even more interesting are the details being dug up on this juror. From DailyMail:
The Georgia grand jury forewoman who laughed about bringing down the former president has a wacky Pinterest page with collections of pinned magic spells and all things witchy…

Many of Kohrs social media accounts have been deleted, but her Pinterest page remains with several collections of pins dedicated to Wicca and Witchcraft.
Clearly, the woman is eager to see Trump go away. Remember when hundreds of witches worked together to cast spells and hexes against the American President? We do. Can't say there are a lot of Trump-loving witches out there, as he is a professing Christian, stands against abortion, and champions conservative values.
But how bad is the situation, really? Bad enough that Trump's team is taking action. From CBS News:
Lawyers close to several Republican witnesses in the Fulton County investigation into post-election interference by former President Donald Trump and his allies are preparing to move to quash any possible indictments by the district attorney, Fani Willis.

Their attempt to do so would be based on recent public statements by the forewoman of a special purpose grand jury, Emily Kohrs, according to two people familiar with the discussions who spoke with CBS News.
Folks, we really don't know if anything untoward happened on the Trump side after the election in Fulton County. But we are clearly seeing major legal problems crop up because of this forewoman. And now it's very likely—if they follow legal precedent—that this whole thing will get thrown out.
All because she decided to speak up prematurely… and because the media, in their excited anticipation of a Trump indictment, actually allowed this woman on the air. And then it turned out she's literally batty, just exposing how bad our jury system can be.
We'll keep you updated on the situation, but in the meantime, it looks like another score for Trump.
Key Takeaways:
The Georgia grand jury deliberations were rocked when its forewoman spoke out in the media about the recommendations.
Her actions may have thrown the entire case into legal jeopardy.
Source: Talking Points Memo, DailyMail, CBS News