Gingrich Makes Prediction On Biden – Newt Claims By November 2020, Joe Is Going To Implode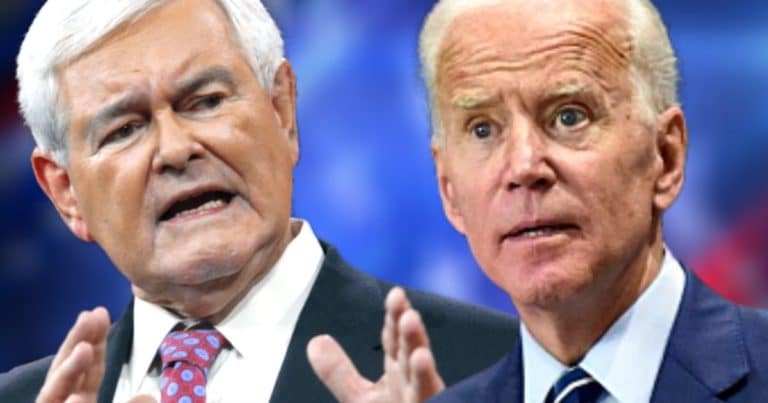 The latest 2020 polls make the claim that the race is close, or that Biden has a clear advantage. Sound familiar?
Despite three years of record accomplishments, the (liberal) media polls say that Trump is done for. Are they right? Will Joe Biden become our next president?
Newt Gingrich has weighed in. And he's making a bold prediction about how the race will play out.
From Newsweek:
Despite all these advantages and various polls that reflect the intense anti-Trump news media hostility, there will be a point in August when there will be a real campaign.

In the real campaign, Biden will melt like a snow cone in a Miami August.
Newt claims that come the fall, Joe Biden will "implode." In fact, he said by August he will "melt like a snow cone."
Putting aside the polls (which were wrong in 2015, 2016, and 2018), let's look at the facts. Most likely, Joe Biden will be running against Trump this November.
How will Biden do in a head-to-head matchup with Trump? Newt goes over some important details.
First, he claims Biden is a terrible candidate. Remember, before Super Tuesday, Biden was all but washed up. It apparently took an act of the Democratic Party to get numerous candidates to drop out for Biden to surge.
We've never seen Biden in a real, national campaign on his own. All his personal weaknesses, alleged scandals, and endless gaffes won't serve him well.
Especially if he has to counter the Donald.
Then there is Biden's record as Obama's VP. Not a great time for the American economy. It was the slowest recovery since the Great Depression. Not to mention the high-unemployment record.
Then, thirdly, Newt talks about Biden's current platform. Although he's called a "moderate" by some, he's adopted much of Bernie's far-left agenda.
Are most Americans willing to give up their liberties to embrace socialism? After these lockdowns, I doubt it.
And then, of course, there are the troubling signs of Biden's mental decline. Even before the outbreak, his campaign was limiting his speeches to seven minutes.
Could he really keep up with Trump?
SHARE if you agree Biden will implode and Trump will win in a landslide.
Source: Newsweek