Newt Just Pulled Back The Curtain On Kamala – Gingrich Accuses The Vice-President Of Planning To Do Nothing At The Border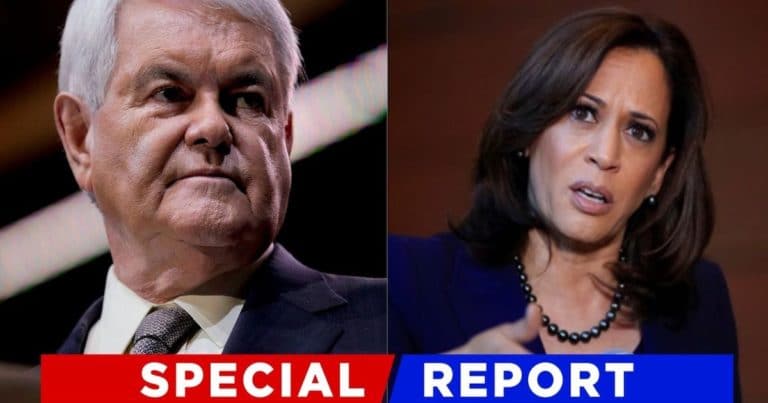 While many border officials continue to complain about the trials at our southern border, the Biden administration remains reluctant to call it a "crisis."
Recently, Vice President Kamala Harris was put in charge of evaluating the border situation. However, Republicans have called out her apparent lack of progress on this critical issue.
And now, Newt Gingrich thinks he knows why Harris was put in charge — and it wasn't because she can fix the problem.
Harris has taken flak from various sources in recent weeks for not visiting the border, and not giving any speeches concerning her new assignment.
This has resulted in Conservatives and other right-wing lawmakers wondering what the Vice President is really doing. So far, it doesn't appear she's addressing the border issue at all.
But Gingrich believes this is intentional.
He says she was put in charge of the border simply because Democrats on Capitol Hill knew she wasn't going to act. Furthermore, it continues to push the leftist open-border agenda.
Gingrich claimed on "Fox and Friends" that VP Harris is in control of the border because "they knew she wouldn't do anything" (via Fox News):
They want the border to be open. Go back and look at the presidential primary debates. They are all in favor of open borders.

They are all in favor of eliminating ICE. They are all in favor of eliminating any threat to sanctuary cities.
Gingrich added that the Democrat plan is to increase the number of unregistered people in the country.
And if that's their goal, why bother securing the border, through which thousands of foreign travelers are currently passing every week?
So in this way, the calculated Democrat plan is working, as Gingrich believes. Harris is simply going to ignore the problem because as far as Democrats are concerned, there is no problem.
He finished by saying:
Of course, it's working. What if your goal was to have the maximum number of illegal people in the United States? How would you do better than Biden?
Republicans were suspicious of this possibility from the moment Harris was put in charge of overseeing the border.
And after several weeks of no visible progress on the VP's side, the GOP and other politicos are seizing on this as proof — Democrats never intend to do anything about the porous border.
And it's simply because they evidently want to promote their open-border policy.
Until Harris makes some sort of speech or takes action in some way, those concerned with the state of our national security at the border will continue to push back.
Key Takeaways:
Newt Gingrich says VP Kamala Harris was put in charge of the border because "they knew she wouldn't do anything."
This is only to push the Democrat agenda of open borders, Gingrich claims.
He also says Democrats want thousands more unregistered individuals in the country, and Biden is just the President to allow that.
Source: Fox News