Gingrich Blindsides Obama And His Attorney General – Accuses Them Of Knowing The FBI Went After Trump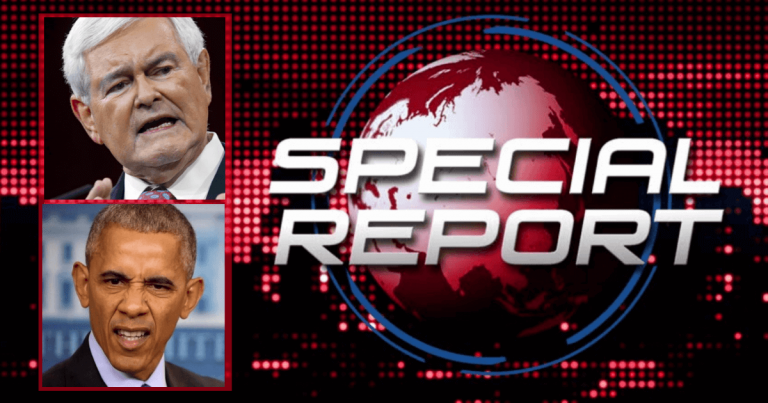 Obama didn't think Newt would dare – finally!
Most of us believe by now that during the 2016 Election, the FBI was spying on Donald Trump's campaign.
They used Hillary Clinton's phony dossier to acquire a FISA warrant to monitor Trump's people. We know at least Carter Page's communications were spied on.
This was clearly a violation of the Trump team's rights. The government had no right to spy on them—based on the faulty claims within the dossier.
Yet who is really to blame? Who was behind this entire charade, a clear attempt to find dirt on a political rival?
According to Newt Gingrich, this scheme goes all the way to the top.
From Breitbart:
"With everything we're learning from the inspector general's report, how is it conceivable that the attorney general and the president didn't know about it?" asked Gingrich. "So, part 1 is to go back and look at 2015, 2016, and ask, given what a hands-on and dynamic president that Barack Obama was, do you really believe all these things happened and the attorney general and the president didn't know it?"
Men working underneath Barack Obama were abusing their power to spy on Trump's campaign.
These were top-ranking FBI agents. They were trying to find dirt on Trump to spoil his campaign and give Hillary the win.
Newt smartly points out that, if you consider how "hands-on" Obama was during his administration—do you really believe he didn't know?
There seems to have been a scheme to prevent Donald Trump from becoming elected. It's hard not to imagine that Obama and his AG Loretta Lynch weren't aware of such a big investigation.
Yet nothing has come out to expose Obama or Lynch. Not once has our government demanded answers from the people who should have put a stop to the spying.
Funny how nothing Obama does ever comes back to him?
What the Left tried to do to Trump was a violation of our democracy. It's everything that they accused Trump of doing—but really they did.
So, the question remains: where are the prosecutions? Where are the indictments? Why isn't Comey, McCabe and all the rest being held accountable?
It's long past due for these people to face justice.
SHARE if you want Barr to indict Obama and Lynch!
Source: Breitbart