Newt Gingrich Pulls Back Curtain On Pelosi – Reveals Nancy's Reason For Withholding Impeachment Articles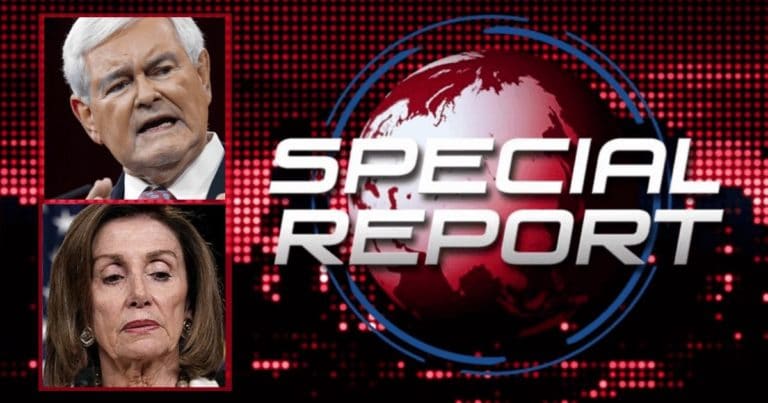 Nancy thought she could get away with it – here comes the former Speaker!
Democrats sealed their fate when they voted to impeach Trump over non-crimes.
Even though Americans were largely against it, they did it.
But, to the disgust of millions, Pelosi refused to send the articles over to the Senate for trial. Even though the law demands it.
Democrats don't seem content until they plunge our entire country into chaos.
Many have speculated why Pelosi would do this, wasting our time and resources.
Newt Gingrich has an idea. And he's blowing up Pelosi's scheme.
From Fox News:
House Democrats do not seem very confident in the evidence they have gathered for an impeachment trial in the Senate, former House Speaker Newt Gingrich said Monday…

"They're just buying time to see if they can create more evidence," Gingrich told "Fox & Friends."
Woah. Newt shattered Pelosi's plan by saying she's only doing this to dig up more evidence against Trump.
Newt says she is "buying time," hoping something new will come to light they can use.
Sorry, Nance, but that's not how our system works. A person is innocent until proven guilty. You need evidence of a crime before you convict.
Yet Pelosi charged Trump over non-crimes and is stalling. All to find new evidence to nail the president.
Do Democrats even care about our laws? Do they even understand how the Constitution works?
Apparently not. They defied many House rules and norms to push their partisan impeachment.
Pelosi has done everything in her power to ignore the will of the people, all to take down Trump.
Does she really think she'll get away with it?
2020 is around the corner and Americans are ready to speak their voice in the election.
SHARE if you think Pelosi is trying to create more evidence to get Trump removed!
Source: Fox News