Rudy Giuliani Spooks Biden Campaign – Sends Joe Scrambling To Get Him Off The Air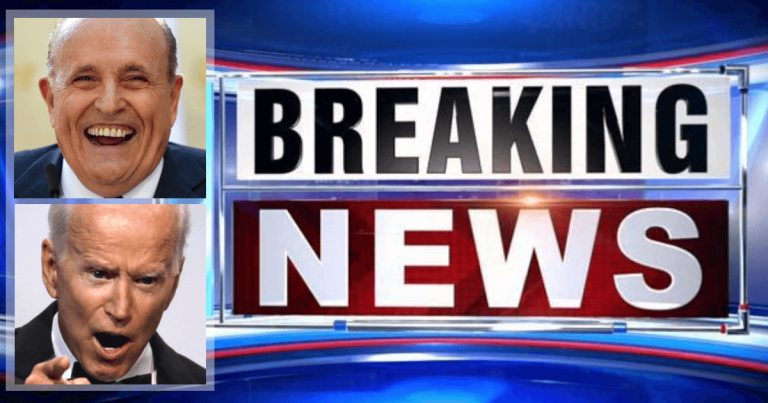 Rudy has Sleepy Joe wide awake – here it comes, Biden!
Joe Biden says he's not worried about his past with Ukraine, but he just proved he's shaking in his boots.
As Democrats in the media rooted for Trump's impeachment, Rudy Giuliani took to the airwaves.
He talked about the case all last week, but he's been focusing on Biden. Giuliani has been discussing the real Ukrainian scandal.
He exposed how Joe Biden threatened Ukraine so they would fire a man investigating his son's company. That's some pretty serious conflict of interest. It certainly warrants a real investigation.
Biden doesn't like it, it seems, when people look into his shady past.
So he contacted the media and did something that probably violated the First Amendment more ways than one.
From The Daily Beast:
Joe Biden's presidential campaign made an extraordinary request to executives of top news channels on Sunday, asking them to no longer book Donald Trump's personal lawyer, Rudy Giuliani, on their programs…

"By giving him your air time, you are allowing him to introduce increasingly unhinged, unfounded and desperate lies into the national conversation," the letter from top aides Anita Dunn and Kate Bedingfield reads.
Boy, that's rich! Biden is accusing Giuliani of spreading "desperate lies" across the news.
Um… that's the ultimate example of the pot calling the kettle black.
Biden and the Democrats have been doing this for years to Donald Trump.
Now that Giuliani is asking questions about Biden's motives in getting a man fired, and he's spreading lies?
We think that's pretty low.
Just think about what Biden is doing. He's threatening the media to stop talking about how he threatened Ukraine.
Not a good idea, if you don't want people to think you like to threaten them.
How does a man like this—who wants to be president—get away with attacking the free press?
Isn't that what the left accuses Trump of doing all the time? Yet Biden can send an angry letter, dictating who the media can interview. And nobody says "boo?"
Oh, I see. Because he's a Democrat he can get away with bullying a foreign power and our media.
I see how it works. So, do Democrats get in trouble for anything, anymore? Trump could be impeached for simply making a phone call.
But if he were a liberal, I'm sure they wouldn't mind what he did to Ukraine! Seems to be the unspoken rule.
SHARE if you want Biden investigated for everything he's done!
Source: The Daily Beast