Giuliani Just Sent Joe Biden Scrambling – Rudy Has Officially Sent His Evidence To The Justice Department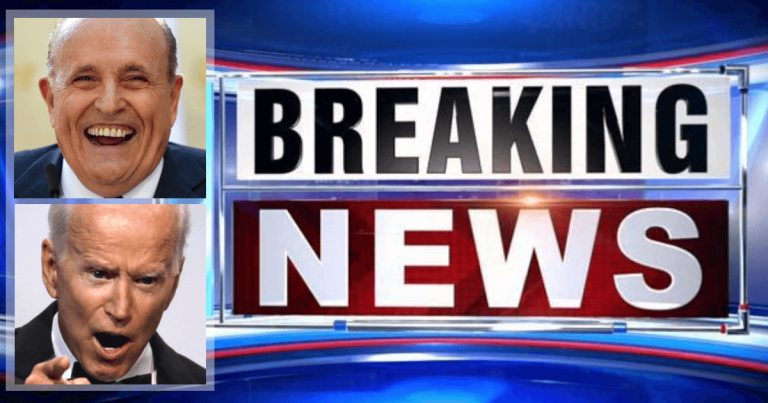 Rudy Giuliani has been talking for a long time about Ukraine. He says he discovered key details about the Bidens' connection to the country.
He's promised on multiple occasions to release this information to the public. And millions of Americans are ready to learn the truth.
But there's a catch.
Even if he released this information to the public, the government would not be obligated to do anything about it.
In fact, they might not prosecute anyone. We've seen this happen too many times.
But Giuliani is no chump. He is doing his best to make sure the Justice Department will take action.
And Sen. Graham just revealed what's going on.
From Washington Examiner:
South Carolina Sen. Lindsey Graham said the Justice Department has "created a process" to review Ukraine-related information collected by President Trump's personal lawyer, Rudy Giuliani…

"He told me that they had created a process that Rudy could give information, and they would see if it's verified. Rudy Giuliani is a well-known man. He's a crime fighter. He's loyal to the president. He's a good lawyer," Graham said on CBS.
The DOJ has created a process to review what Rudy discovered in his investigations, according to Sen. Graham.
So the Justice Department is officially receiving what evidence Giuliani has. And he says he has some hefty evidence.
We know over last year, Giuliani traveled to Ukraine (among other places) searching for information about the Bidens.
Since then, he has claimed that the Bidens' connections with Ukraine were just the tip of the iceberg. He said he has evidence connecting  Ukraine, other European nations, and the Obama administration.
Giuliani actually suggested this all went much further than Joe Biden and Hunter.
But even if he published all this information, it needs to end up in the hands of federal prosecutors.
Now it finally looks like the DOJ is taking this seriously. They set up a system to review everything Rudy has uncovered.
Remember, Rudy's no rube. He has been a tough crime fighter all his life. Early in his career, he fought  crooks in New York.
He went on to clean up New York City as an effective mayor.
Now he's working for the president. Perhaps he's about to expose some of the country's worst criminals.
SHARE if you want Giuliani to bring the Bidens to justice!
Source: Washington Examiner