Google CEO Sweet-Talks Trump In Oval Office – Then Donald Sideswipes The Tech Giant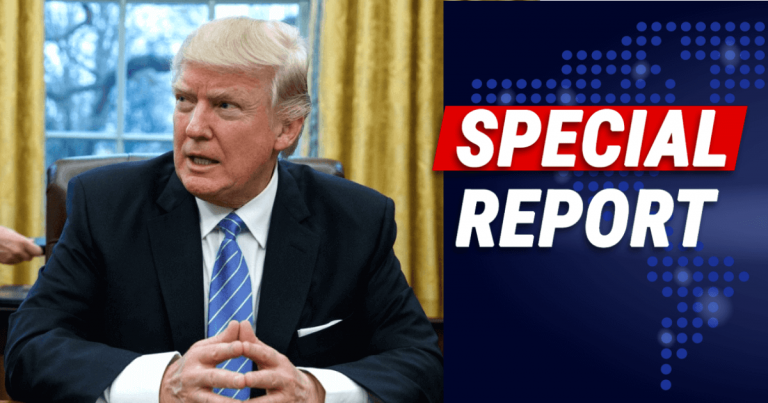 Google thought they had Trump on a string – then he yanked hard!
Google has been outed for trying to help Hillary get elected in 2016 – but Google has been trying to cover it up.
In fact, whistleblowers from inside the company have exposed Google's far-left bias.
It's no surprise that big wigs from Google are now trying to make it up to Trump—the man who will be in the White House for at least another year (we know longer).
Their CEO even visited President Trump and tried to sweet-talk him. Well, as new information is coming out over their plans for 2020, Trump is hitting back hard.
From Trump's Twitter: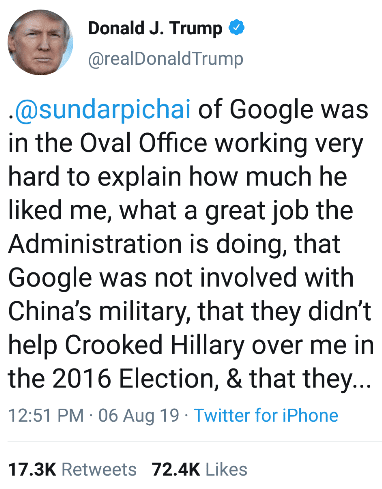 But then things turned south for the Google CEO: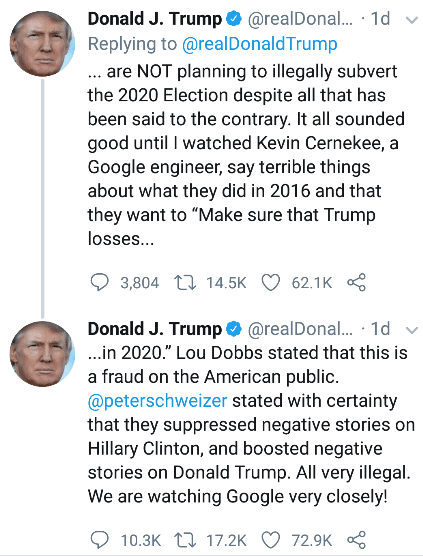 Here's the key quote: "It all sounded good until I watched Kevin Cernekee, a Google engineer, say terrible things about what they did in 2016 and that they want to "Make sure that Trump losses in 2020."
Woah. Google better watch itself! Because President Trump appears to be on the warpath!
He said he is watching Google very closely, for potential election tampering in the upcoming election.
We know that Google suppressed negative articles about Hillary Clinton in 2016, to help her win.
Leaked videos reveal current Google staff talking about preventing Trump from winning 2020.
It's possible they will try to use their search engine to once again help the Democratic candidate.
Since Google is the biggest search engine, by far, many people use it to gather information about the election.
Many will see glowing stories by liberal outlets about the left's candidate. And very negative articles about Trump.
They might not even discover the massive success Trump has achieved for our country. Google might hide the amazing economic numbers Trump has earned through his policy.
And that's just the tip of the iceberg.
President Trump calls out this behavior as against the law. It's possible he could use the power of the federal government to hold Google accountable for their actions.
If I was Google's CEO right now, I'd be very worried.
SHARE if you think Trump needs to put a leash on Google to stop election tampering!
Source: Twitter