GOP Scores Major Constitutional Victory – And Deals a Devastating Blow to Biden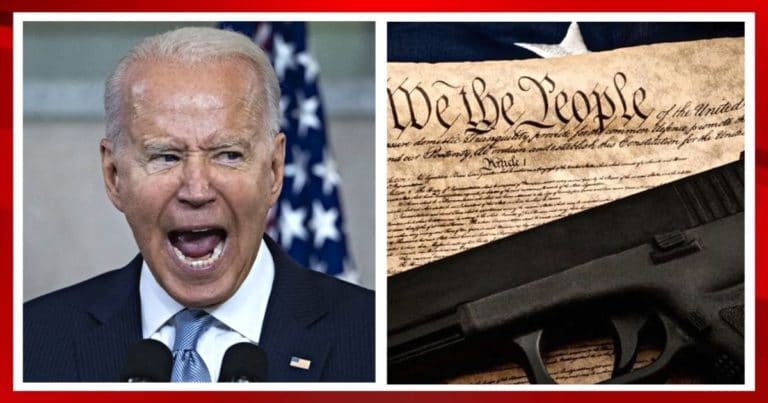 What's Happening:
Back in the Wild West, hired guns would notch a win in their belt when they walked away from a gunfight. Survival was getting the win and there were no draws.
President Joe Biden has made it clear that he is pushing tyrannical plans at every level of government with the goal of ruling Americans, not representing and woking for them. He started this gunfight, and patriots need to oppose him at every power-hungry turn.
The good news is that within our political and legislative landscape of today, it's not always winner-take-all. Sometimes a draw or an initial win can send Biden and his minions scurrying around looking for their next illegal action.
One of the biggest attacks on Americans' freedom has come from the ATF. This outlaw agency has flip-flopped once again in an effort to turn millions of Americans into criminals and allow Biden to stomp on their necks with his boot heel.
This week "We the People" notched a victory with House of Representatives legislation that hit Biden hard and might save the Constitution.
From Fox News:
The measure, H.J.Res.44, would nullify the Bureau of Alcohol, Tobacco, Firearms and Explosives (ATF) rule that regulates stabilizing braces for pistols and prevent the ATF from reintroducing the same rule in the future.

The resolution passed nearly along party lines Tuesday evening at 219-210, with two Democrats voting in support and two Republicans voting against the measure. The NRA, which has been fighting the pistol brace rule since it was first floated in 2021, celebrated the measure's passage "to block this unlawful rule."
This has been a dogged fight for months after the ATF sent gun owners nationwide into a frenzy. The rule had a 90-day "grace period" before going into effect June 1. Overnight millions of Americans – many who didn't even know about this rule change – were classified as felons for owning a gun they legally purchased.
Thankfully, Republicans stepped into the street and called out the ATF and Biden.
From Fox News:
Republican Georgia Rep. Andrew Clyde, who introduced the measure, said in comments provided to Fox News Digital that pistol braces are commonly used by law-abiding gun owners, especially disabled veterans, and described the passage of the measure as sending a "resounding message" to the judicial system that the ATF rule is "unconstitutional."

"Every day, millions of Americans — including many service-disabled veterans — rely on stabilizing braces to exercise their Second Amendment freedoms. Yet through the ATF's rule, the Biden Administration is attempting to circumvent Congress' sole legislative authority by using executive fiat to turn these law-abiding gun owners into criminals for simply attaching this beneficial brace to their firearm," Clyde said.
Passing this bill in the House isn't a complete win. The Senate must still pass the bill. That will require all Republicans to step up and several Democrats to side with their constituents. This would send a loud message to the D.C. swamp and its gun-hating tyrant.
Biden has already said he will veto the bill. Good. I would consider this a draw in this fight. A veto will place Biden and all who vote against the measure in the sights of voters in the next election cycle.
Voting out anti-Second Amendment gun controllers would be a big notch in the belt of conservative Americans who are obeying the law and protecting the Constitution.
Key Takeaways:
Republicans step up pressure in "gunfight" with Biden, ATF.
Big win in U.S. House fires a shot at tyrannical agency rule.
Senate faces pressure to save gun owners and stop Biden.
Source: Fox News