GOP Leader Sends Musk an Urgent Request – He Wants Elon to Move Twitter HQ from California to His Southern State, Florida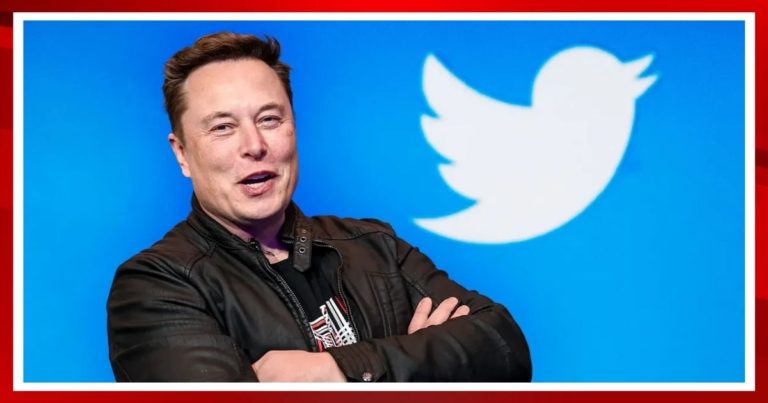 New Twitter CEO Elon Musk has been dominating news headlines since taking over the social media giant in October.
The shockwaves of his "Twitter Files" slammed into Washington, resulting in Republican leaders issuing 51 subpoenas for intel agents associated with Twitter's alleged suppression and manipulation.
Unsurprisingly, the GOP now sees Musk as a hot commodity — which is why one leader wants Twitter HQ in his state.
Currently, Twitter's base of operations is in San Francisco, which is a historical hotbed of liberal activity. And many companies have left California in recent years for more business-friendly states.
On the flip side, Florida has shifted from being a purple state to almost solid red thanks to popular Republican Gov. Ron DeSantis.
And state Rep. Carlos Giménez thinks Florida would be a great fit for Elon and his company. He penned a letter to Musk, asking the billionaire to consider moving to Miami-Dade County.
As Giménez said in the letter (via The Daily Wire):
I am writing to you as the former Mayor of Miami-Dade County who now has the distinct honor of representing my community in Congress.

We want to encourage you to explore our Free State of Florida and make the move to relocate Twitter to Miami-Dade County.
Giménez is the former Mayor of Miami-Dade County, and he reminds Musk that he "worked tirelessly" to make the area a global technology hub.
He also cited California's "leftist dystopia" and mentioned the blue state's restrictive business policies, which are in stark contrast with Florida's more "freedom-focused" policies, thanks to DeSantis.
But Giménez isn't the first political leader to extend Musk this invitation.
Texas Gov. Greg Abbott said back in April that if Musk took over Twitter, he'd be happy to play host to the social media corporation. Musk's SpaceX company is already there, after all: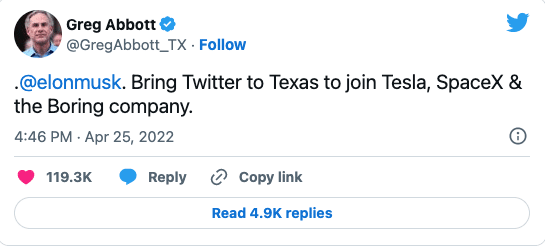 We've heard of multiple major companies fleeing California for Texas in recent years, so such a move might make sense.
Then there's Republican South Dakota Governor Kristi Noem, who said Musk's Twitter would be welcome in her state as well: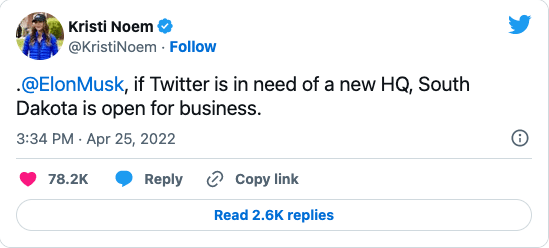 Elon Musk has hinted that Twitter might be moved, though he didn't say they would abandon San Francisco entirely.
He's reportedly considering Texas, though he told employees that if they moved the whole operation to the Lone Star State, it would imply that Twitter has gone from left-wing to right-wing.
And Musk added that this "is not the case." He clarified:
This is not a right-wing takeover of Twitter. It is a moderate-wing takeover of Twitter.
Musk voted Democrat consistently before the Biden administration, and his separating from the left has been widely documented.
And he is having some issues with California politics, once going after SF Mayor London Breed for the fentanyl crisis. He's also questioned some of the Golden State's other political and business moves.
Right now, though, many are saying Musk should consider Florida — it's about as far away from California as you can get, geographically and politically.
Key Takeaways:
Florida GOP Rep. Carlos Giménez invited Elon Musk to move Twitter HQ to his state.
Other Republican Governors, like Texas Gov. Abbott and South Dakota Gov. Noem, have made similar offers.
Musk has hinted that he might move at least part of Twitter's base of operations to Texas.
Source: The Daily Wire