Ron DeSantis Shakes Up the 2024 Race – New Report Claims His Announcement Is Approaching Quickly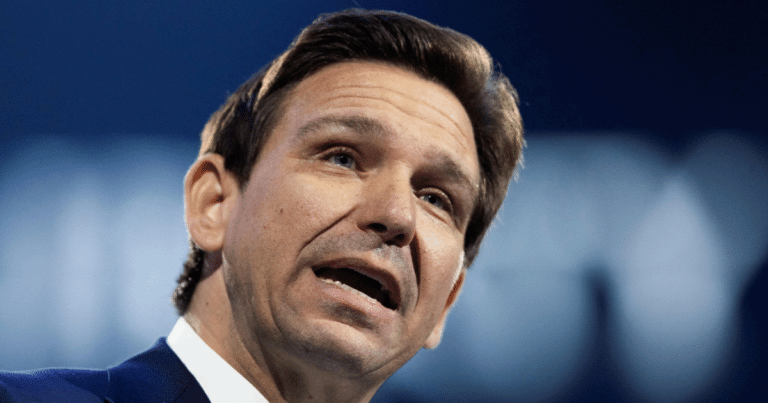 What's Happening:
At the moment, Donald Trump is the current 2024 GOP frontrunner. He's so confident in his apparent lead, that he is toying with the idea of skipping out on the Republican debates. The truth is, he is enjoying a bump from the news that Democrats indicted him in NYC. Many experts claim this is why Democrats went after him in the first place.
But there is still plenty of time before the primaries. And anything can happen.
It's pretty obvious that Trump is very scared of one man. He has constantly slammed this former ally, yet the man himself has refused to go low to punch back. Any day now, this Republican could make an announcement that sends Trump running for the hills. And now, we are getting very close to some big news.
From The Post Millennial:
Florida Governor Ron DeSantis is said to be jumping into the GOP presidential candidate race as soon as mid-May. DeSantis would enter a field of candidates led by Donald Trump…

Some of the Florida Republican's backers are urging him to declare as soon as May 11, while others in the governor's circle have argued that the date would be too soon, according to two GOP operatives. All of the sources emphasized that mid-May is the target date.
The country's most-successful governor could be announcing his presidential bid in just a few days. Rumors suggest that Gov. Ron DeSantis of Florida will announce his 2024 plans in May. Some say as early as May 11. Others are pushing him to make a move even earlier.
DeSantis seems to be the one man Trump is afraid of running against. Trump claims he helped DeSantis get elected in 2018. But Trump has been all but absent in DeSantis's historic administration. He helped Florida thrive even during COVID and beyond.
Despite a devastating hurricane hitting just days before his 2022 re-election bid, DeSantis won in a landslide. He defeated his Democrat rival by a whopping 1 million votes–without a Trump endorsement.
Trump has downplayed DeSantis's successes, even siding with far-left groups to slander Florida. These are the same dirty tactics he used in 2016 to undermine other Republican primary rivals. But there is a good chance Trump won't be successful as he's been in the past.
If DeSantis jumps into the race, make no mistake. The GOP primaries will become extremely intense. Trump will use every underhanded trick to slander this presidential hopeful. And DeSantis will have to get very tough to break the wall of ardent Trump supporters across the nation.
Key Takeaways:
Ron DeSantis is planning to announce his candidacy on May 11.
Reports indicate his team is pushing him to announce it sooner.
This comes as Trump constantly attacks DeSantis, his strongest rival.
Source: The Post Millennial