Lindsey Graham Lays Out Impeachment Roadmap – Sends Nancy Pelosi Scrambling Before The State Of The Union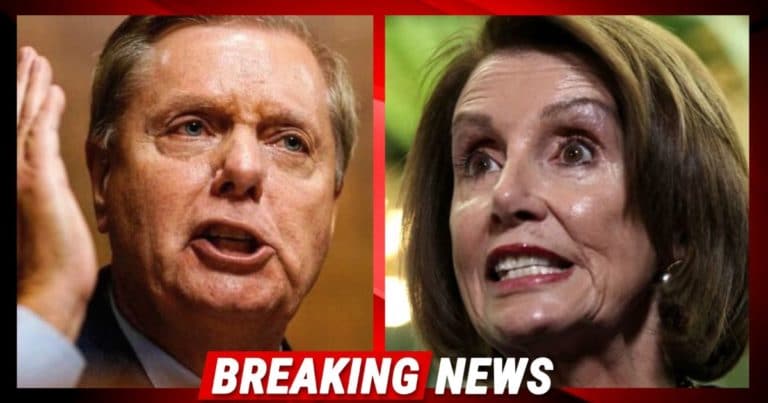 Does Nancy Pelosi really think the Senate will convict Donald Trump? It's a longshot, at best.
But the Speaker is boasting as if she has already won! And even if she fails, she claims Trump has been "impeached forever." Whatever that means.
Clearly, Pelosi (and all Democrats) are banking on the stigma of impeachment to follow Trump forever. She really believes that her sham of an impeachment will ruin his 2020 chances.
Well, we know the polls don't seem to think that.
And Lindsey Graham just rained on Pelosi's victory parade, with this startling prediction.
From Fox News:
"The best thing for the American people is to end this as soon as possible," Graham said. "On February the fourth when the president comes into the house chamber to deliver the State of the Union, he will have been acquitted by the Senate, [he will be] the strongest he has been politically."

"I hope this is done in about a week and I predict a bipartisan acquittal of President Trump," he added.
Wow, you know Pelosi won't like to hear this interview! Lindsey Graham said that he predicts a quick Senate trial and bipartisan acquittal.
We shouldn't be surprised at that. There is hardly anything solid enough to prove Trump should be impeached.
He released the transcript of the Ukrainian call himself. Few Americans are buying the left's story that he committed a crime.
But what Graham also said will probably have Pelosi pretty frustrated.
The senator predicted that the impeachment trial will be over by the State of the Union address. And that Trump will come out of this stronger than ever.
Why? Because the Democrats took their best shot at him—and missed!
They were promising to impeach him since before he entered office. They've been talking about impeachment for over three years.
Now, they finally did it—and failed to remove him from office. America sees Trump winning constantly for them.
New trade deals, money and jobs flooding the country, energy dominance, welfare is down, and so much more.
What are the Democrats doing?
From our perspective, it seems like everything they can to prevent you from prospering.
They want the old, bad trade deals, they want to tax you for breathing CO2, they want to tax the rich, which will tank the market, and they want endless regulations.
Yeah, I'd say Trump is going to come out of this stronger than ever.
This impeachment will only seal Trump's 2020 victory.
SHARE if you are going to vote for Trump in a 2020 landslide!
Source: Fox News