Lindsey Graham Just Walked All Over The Woke – 200 Students Tried To Stop Chick-fil-A, But He Helps It Open Anyway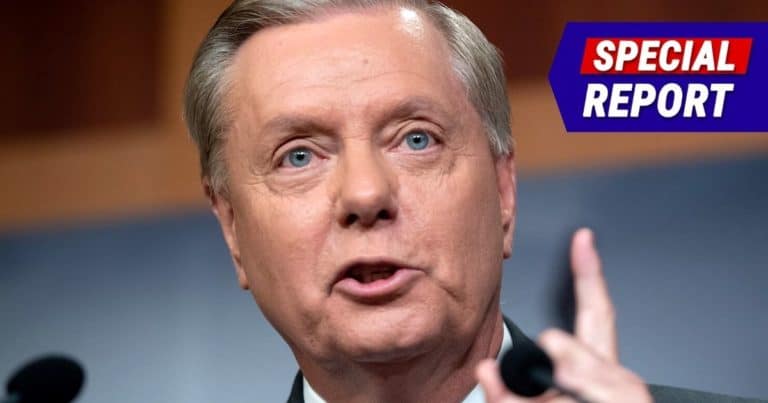 When the University of Notre Dame announced they planned to build a Chick-fil-A restaurant on campus grounds, one wouldn't expect that to make national headlines.
But it did. That's because almost 200 students and faculty members railed against the idea, as they believe the restaurant chain is "anti-LGBTQ+" and features a "reliance on animal agriculture."
However, the "woke" crowd didn't win this particular battle.
Immediately after the news broke, Republican Sen. Lindsey Graham quickly took Chick-fil-A's side.
As he said in a statement, he'd "go to war" to defend the restaurant:
It's disappointing to hear some ND students and faculty want to ban Chick-fil-A from doing business on campus because they disagree with the values held by the Chick-fil-A founders. What a dangerous precedent to set.

I hope we don't have to, but I will go to war for the principles Chick fil-A stands for. Great food. Great service. Great values.
In the end, all this attention worked against the naysayers.
As reported by the Washington Examiner:
The nearly 200 students and faculty members who expressed opposition to the university's decision to bring the popular chicken restaurant onto campus were outnumbered by proponents, the university said in a statement.

'Our students have overwhelmingly expressed a desire to have a Chick-fil-A restaurant on campus, and we look forward to opening one early next year,' the university said.
Those against the idea also called out Chick-fil-A CEO Dan Cathy's donations to Christian charities and other organizations.
For some reason, this was grounds for not allowing the restaurant to open — despite the fact that freedom of religion and tolerance of ideas are foundations of the country.
As for Chick-fil-A, the company has made its position clear (via Business Insider):
We want to be clear that Chick-fil-A does not have a political or social agenda, and we welcome everyone in our restaurants.
It appears to be a matter of perception that the restaurant chain discriminates against LGTBQ+ individuals. And even if they support the Christian faith, that doesn't exactly violate any rules.
At least in this case, the "woke" mob didn't manage sway the majority of public opinion.
Chick-fil-A is going to open and if anyone has a problem with that particular business, they certainly don't have to walk in the front doors. That seems to be the commonly held view of many American citizens.
Key Takeaways:
Nearly 200 students and faculty at Notre Dame tried to stop a Chick-fil-A from being built on campus grounds. They cited an "anti-LGBTQ+ agenda."
Sen. Lindsey Graham went to bat for the restaurant, claiming he'd "go to war" to defend the company and its values.
Graham and supporters won out in this battle, as the university will allow Chick-fil-A to move forward.
Source: Washington Examiner