Kamala Harris Crashes and Burns in Trainwreck Interview – The VP Acts Completely Oblivious to American Border Concerns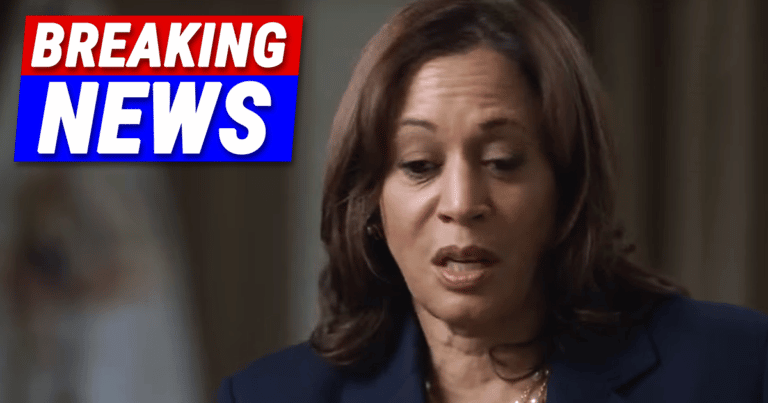 What's Happening:
At this point, we really have to wonder who is more incompetent: Joe Biden or Kamala Harris?
Harris is supposed to be Biden's "border czar." The person responsible for securing our Southern border and enforcing our immigration laws. Yet, what has she done to help?
Obviously, she's failed at that job miserably. But not only does she not know what is going on, but she doesn't even understand what the fuss is all about.
Are you kidding me? She can't even answer a yes or no question. But it got worse.
Pathetic, just pathetic. Playing games? What an imbecile.
No, Ms. Harris. Inhumane is when an administration encourages aliens to risk their lives, by refusing to enforce our immigration laws.
Of course, she just shifts the blame to Republicans.
Kamala Harris is the highest-ranking federal official overseeing the border. God help us.
She doesn't care that millions of aliens have entered the country since 2021.
She doesn't understand why Americans fear for their lives as drug cartels, human smugglers, and sex traffickers are overrunning our communities.
Harris accused Republican governors of "playing games" by sending aliens to blue cities. She's never seen the border with her own eyes.
She's done nothing, except send millions of our dollars to countries that refuse to help.
And she has the gall to pretend like this is all in our heads. Oh, it's a complicated problem?
Not really. All you have to do is keep the border secure. Deport people who break our laws. Actually put our country first.
But neither Kamala, nor Biden, nor anyone else in the Democratic Party wants to do that.
So why should Kamala even hold the position of Vice President anymore? Here's 3 clear reasons she shouldn't:
1. She doesn't recognize Americans' frustration with the border. 2. She can't understand why GOP governors are trying to get her attention. 3. She believes sending immigrants to rich blue cities is inhumane.
The Vice President is meant to represent the American people. If she's not interested in doing that, she needs to find another job.
Thankfully, Americans can start that process this November by kicking Democrats out of power in Congress and tying the hands of the Biden/Harris White House (or whoever is really in charge).
Key Takeaways:
Kamala Harris showed her utter ignorance of the border crisis during a recent interview.
She attacked Republican governors, criticized concerned Americans, are refused to take responsibility.
Millions have entered the U.S. illegally since the start of the Biden administration.
Source: YouTube, YouTube, YouTube, YouTube