Senator Hawley Lays Down The Law On Impeachment – Gives House Speaker Pelosi Only 5 More Days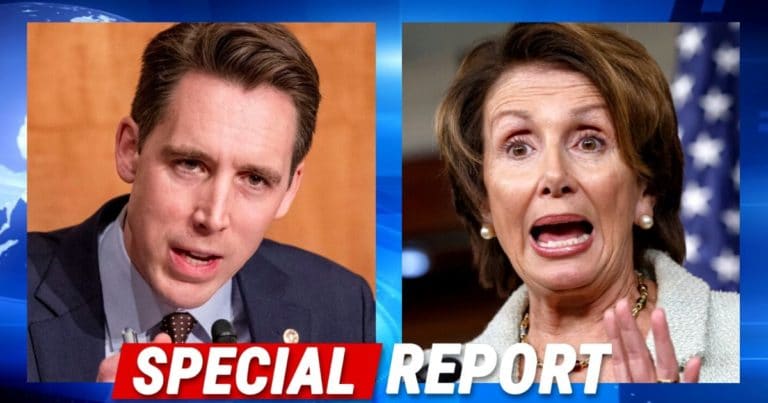 Senate Republicans have had it up to here with Nancy Pelosi's impeachment game.
You probably remember how "urgent" she and Democrats were to get impeached passed. They said it was an emergency and we had to impeach Trump.
They rushed through the inquiry process, refusing to give Trump or the GOP a fair shake.
But after all that, Pelosi sat on her articles. She refuses to send them over to the Senate, as the Constitution demands.
She says the Senate must act urgently, but she's the one delaying the whole thing!
Republican Josh Hawley is taking strong action. He is telling Pelosi she better send them over.
And time is running out.
From National Review:
Senator Josh Hawley (R., Mo.) on Monday introduced a resolution to update Senate rules and dismiss the "bogus impeachment" against President Trump if House Speaker Nancy Pelosi continues to delay in sending impeachment articles to the Senate for a trial…

[The resolution] allows the Senate to vote on dismissing articles of impeachment if they are delayed for 25 days or more by the House.
Hawley introduced his resolution for the Senate to dismiss Pelosi's bogus impeachment articles. Because of her continued delay, he is saying the Senate should just get the job done.
His resolution sets a deadline of 25 days for the House to send over impeachment articles. That means Pelosi has only five days left to do her job.
If not, the Senate can go ahead and vote to dismiss this entire charade.
Hey, if that doesn't seem fair, just think back to how the Democrats acted through this entire process.
They found a whistleblower complaint and used it as "evidence" to launch an impeachment inquiry.
They ignored Republicans' objections and requests. They read a mock version of the phone call in order to confuse the public.
They rushed through an impeachment vote along party lines.
They denied the president due process or the chance to confront his accuser.
And now they sit and do nothing, holding impeachment over Trump's head like some kind of trophy.
And Pelosi says the Senate is not going to be fair?
This is beyond ridiculous. Pelosi knows her scheme has failed. She and her party tried to wrongfully doom the president because they can't win in November.
Now she thinks she can continue to scheme, keeping the country in chaos.
I don't think so. Hawley's resolution will finally bring an end to this nonsense. Pelosi can complain all she wants, but she brought this on herself.
SHARE if you want Pelosi's impeachment dismissed immediately!
Source: National Review