After Crowd Orders Biden To Abolish ICE – Joe Admits On Video He Just Needs "Another 5 Days"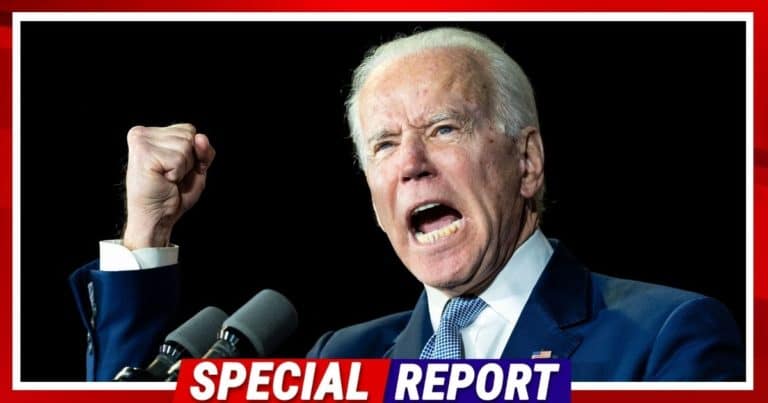 What's Happening:
Right now, Americans are coming to the realization that Joe Biden is not a moderate. Not even close.
It's possible even Democrats who voted are having second thoughts. He refused to compromise with Republicans. And he is pushing the most radical agenda we've ever seen.
But this latest interaction with a crowd might convince any holdouts this is the same man who once was a senator.
The group of activists chanted "Abolish ICE," during a recent event. That would have been something Biden normally would have ignored or even condemned in 2020.
But now? He said this.
From YouTube:
During a speech, people in the crowd called on Biden to "Abolish ICE" among other things.
Biden paused to tell them he agreed with them. Then he made a cryptic remark, "Give me five days."
That's a bit of an unusual statement, from a man who has given little priority to securing the border or dealing with the migrant crisis.
Biden has previously tried to tie the hands of both Border Patrol and ICE. He tried to stop ICE from deporting criminals, which sparked a lawsuit.
But does Biden want to abolish the one agency devoted to protecting us at the border?
Biden does not have the power, on his own, to dissolve a federal agency. It would require legislation from Congress—an unlikely possibility.
Perhaps Biden is talking about more executive orders that would prevent the agency from doing its job?
Or maybe he was responding to some of the other things these radicals were shouting. One exasperated communist appeared to be saying something about closing the detention centers.
Regardless, this could be another case of Biden getting confused and mistakenly breaking from his script.
Or, he is once again promising something he has no intention of doing.
Or… he really does plan on trying to abolish ICE. Which would mean the chaos on the border would only continue.
Perhaps that's his real plan?
Key Takeaways:
Joe Biden responded to a group shouting at him about "Abolishing ICE" and other things.
Biden said he "agreed" with them and asked, "Give me five days."
It is unclear what Biden was referring to, or if he intends to truly abolish ICE.
Source: YouTube