Hillary Quietly Helps Elizabeth Warren – And Clinton Might Want To Be Her VP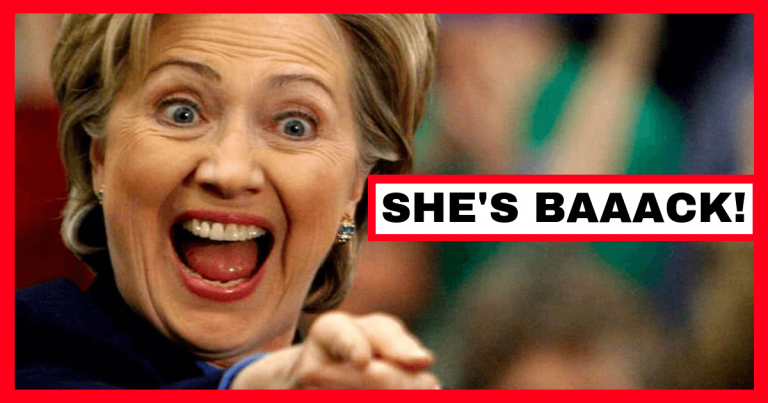 Hillary Clinton is back – and she could be staging a shadow run to the White House!
You thought it was over. You thought you could go back to sleep, with no fear.
I'm sorry, but your worst fears linger. Hillary Clinton is still alive, and it looks like she wants to run your life from Washington.
Despite her track record at presidential elections (losing twice), she is reported becoming very close with a 2020 candidate.
At the very least, she might sway braindead delegates into giving this Democrat the nomination. At most – she wants a lot more in return.
From Daily Caller:
Former Secretary of State Hillary Clinton and Massachusetts Democratic Sen. Elizabeth Warren are reportedly developing a close political friendship that might prove pivotal to deciding the Democratic presidential nomination…

"Hillary Clinton would absolutely have influence over a number of delegates to this convention,"….referring to the possibility that Clinton could help Warren secure delegates if there is no clear nominee…
Not a huge surprise, if you ask me. Clinton, reportedly, is bonding with Elizabeth Warren.
Many are speculating that the former first lady will use whatever influence she has left in the party to get Warren the nomination.
I mean, Clinton did get a huge boost from the superdelegate process last time. It's not too much of stretch to think she can do it again for another female candidate!
You might wonder why Clinton would risk returning to politics (as if she ever left) to help Warren. Why should she share the spotlight—or help another woman become the first female president?
Maybe she'll get something in return?
Maybe she'll be given the VP spot? If not that, maybe another high position?
As much of a longshot as that is, we can't discount it.
But if I was Warren, I would pick ANYONE ELSE besides Hillary Clinton to guide my sleigh. I mean, she lost the primary battle in 2008 and the General Election in 2016.
Does Warren think the third time's the charm?
But it looks like Warren thinks she is the key that will get her the nomination. If she keeps her around for the General Election, though, she might have a big problem on her hands
Not that I'm all that worried about it. I'd LOVE to see Trump go up against Pocahontas and Hillary – wouldn't you?
SHARE if you think Trump will beat them in a landslide!
Source: Daily Caller