After Hillary blames border problem on Trump – Dan Crenshaw unleashes: "What Insane Gaslighting"
Crenshaw just made Hillary regret opening her mouth.
Despite losing in 2016, Hillary Clinton takes every opportunity to blame Trump and Republicans for just about everything.
Democrats said over and over that we don't have a problem at the border. Now, it seems, they're finally admitting it.
But Hillary definitely won't accept blame for it. Can you imagine her taking responsibility?
Instead Hillary bashed Republicans, and essentially Trump, basically lying about the situation:
"Demand accountability from your Republican representatives for allowing this administration to cage children and keep them in unconscionable conditions."
Rep. Dan Crenshaw (R-TX), who frequently calls out Democrats for their lies and mistakes, was quick to respond.
He shot back, saying Hillary was "gaslighting" the GOP for the humanitarian problem, and added an important question: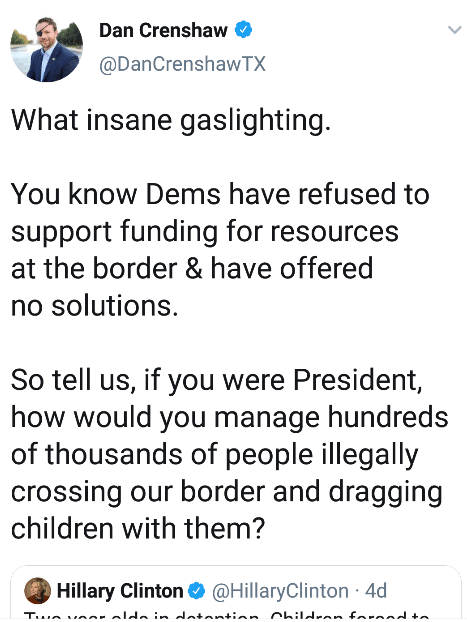 "What insane gaslighting. You know Dems have refused to support funding for resources at the border & have offered no solutions.
So tell us, if you were President, how would you manage hundreds of thousands of people illegally crossing our border and dragging children with them?"
Then Crenshaw added that Clinton is doing fundraising for "immigrant rights" using ActBlue, which means that data is being collected for Democrats: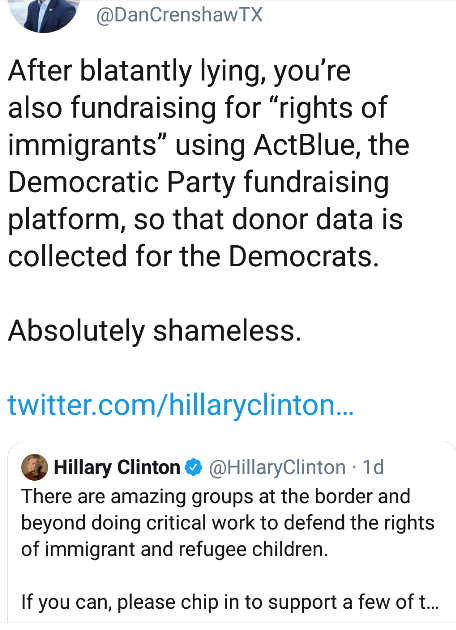 "After blatantly lying, you're also fundraising for 'rights of immigrants' using ActBlue, the Democratic Party fundraising platform…
…so that donor data is collected for the Democrats. Absolutely shameless."
That sums it up right there: shameless.
Clinton places blame on Republicans and Crenshaw further claims that Hillary is grabbing immigrant info for Democrat use.
By taking advantage of the ActBlue fundraising platform, that donor data is flooding right to Democrat leaders.
As Crenshaw says, it's just ridiculous that Clinton should choose to place this mess at the feet of the GOP, especially when they don't appear to have any solutions of their own.
But thankfully, Crenshaw isn't about to let her get away with it!
SHARE if you love seeing Crenshaw put Hillary in her place, and want others to see!
Source: Washington Examiner