Mom Drops 'Homewrecker Hammer' On Omar – Divorce Court Claims Ilhan Affair Led to Husband Ditching His Wife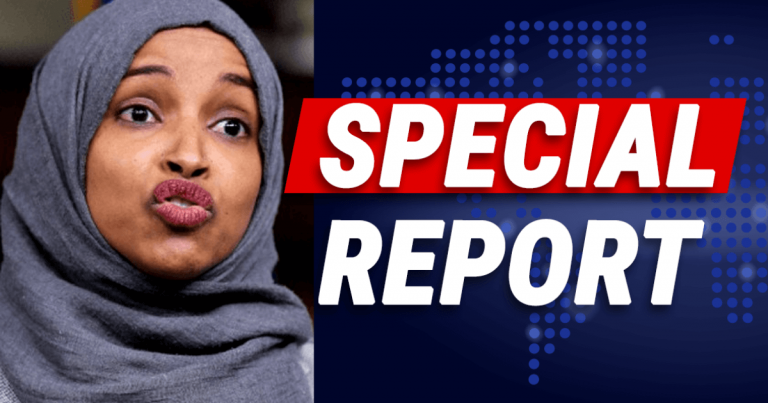 Omar's in serious trouble – the media can't hide this one!
Ilhan Omar may be many things, but "decent" probably isn't one of them.
She thought she'd stir up D.C. in new and bold ways. Instead, she seems to be just another swamp dweller. With a personal life totally in shambles.
As she's torched the left with her wild statements, outraging both liberals and conservatives, she was causing even more trouble elsewhere.
Turns out, her home life isn't very peachy. And now, an angry spouse is firing back with a blistering divorce filing.
From New York Post:
A Washington, DC, mom says her political-consultant husband left her for Rep. Ilhan Omar, according to a bombshell divorce filing obtained by The Post.

Dr. Beth Mynett says her cheating spouse, Tim Mynett, told her in April that he was having an affair with the Somali-born US representative — and that he even made a "shocking declaration of love" for the Minnesota congresswoman before he ditched his wife, alleges the filing, submitted in DC Superior Court on Tuesday.
Woah. According to Dr. Beth Mynett, Ilhan Omar is responsible for ruining her marriage.
The woman claims that her husband, a political consultant for Omar, declared his love for her. Right before he ditched his wife.
Crazy.
Tim Mynett was apparently having an affair with Omar. According to the court papers, he would rather run away with Omar than stick to his wife.
This is quite the mess. The stuff of soap operas and gossip columns. Not the kind of thing you want to see coming from an elected representative.
Omar claims to be taking the high road in her feud against Donald Trump, conservatives, and even the nation of Israel.
But it seems like Omar doesn't really know basic right from wrong. It's wrong to have an affair with a married man. And it's wrong to compel that man to leave his wife, the woman he promised to love and cherish.
Maybe Omar doesn't really care about things like marriage vows and commitment. If so, she's not the kind of person who should be drafting laws for our country, huh?
SHARE if you want Congress to get rid of Omar once and for all!
Source: New York Post