Hours After Trump Supporter Diamond Passes Away – Donald Responds, Says Her Big Heart Probably Gave Out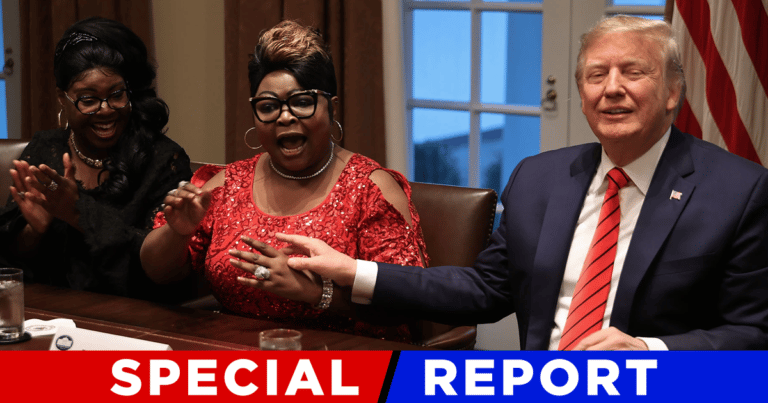 What's Happening:
Through all of his ups and downs, Trump could count on one thing: the tireless support of his most devoted allies. Two of those supporters were the black duo Diamond and Silk. These women were outspoken in their love and appreciation of the former president, long baffling the liberal elite who demand all black Americans vote Democrats.
But the news came out this week that Diamond, of Diamond and Silk, suddenly passed away. Updates about her unexpected passing are still coming out. But Donald Trump was one of the first people to break the news, expressing his thoughts and concerns about the duo.
From The Hill:
Lynette "Diamond" Hardaway, a member of the Diamond and Silk duo who gained national attention for their staunch support for former President Trump, has died at the age of 51…

"Silk was with her all the way, and at her passing. There was no better TEAM anywhere, or at any time! Diamond's death was totally unexpected, probably her big and precious HEART just plain gave out. Rest In Peace our Magnificent Diamond, you will be greatly missed!" he said.
Trump honored his fallen friend and ally, Diamond, in a post to TRUTH Social. He expressed condolences to her sister, Silk, and spoke fondly of the work they achieved. He, like the rest of us, does appear aware of her cause of death. But he stated that it could have been her "big and precious  HEART just pain gave out."
Diamond and Silk appeared at times at Trump rallies. They were very vocal on social media and for a time, appeared frequently on Fox News. Even in the aftermath of 2020, they continued to support Trump, especially after his 2024 announcement.
Her family created a fund to preserve Diamond's legacy. It will be a long time before a duo like this shakes up and inspires the black community as they did.
Key Takeaways:
Trump supporter Diamond, of Diamond and Silk, suddenly passed at the age of 51.
Trump honored the woman in a post to TRUTH Social, saying her big heart might have given out.
Diamond and Silk were known for their outspoken support of the 45th president.
Source: The Hill