Hours After Biden Plans $1.8T In New Spending – Americans Send His Approval Rating Straight South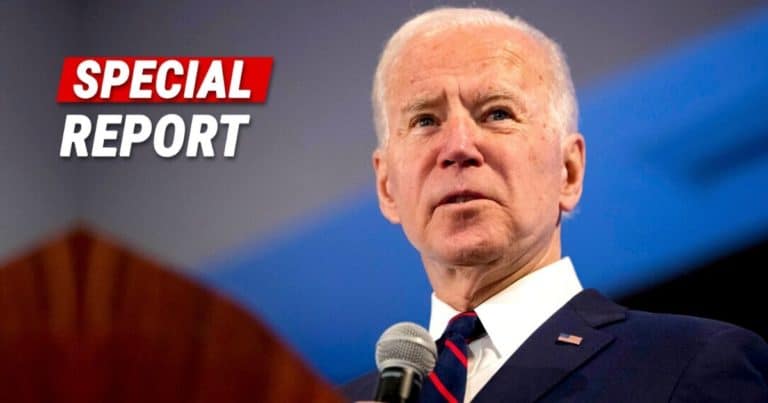 What's Happening:
President Biden is trying to spend money as if there's an neverending supply—but he's really spending away the future of our children and grandchildren.
He already is pushing a $2.2 trillion "infrastructure" bill (that we've learned spends very little on actual infrastructure).
But that wasn't enough. Now, Joe is trying to push another big spending package, as he prepares for his first (very late) address to Congress.
From Daily Caller:
Like the AJP, the AFP will also primarily be paid for with tax increases on the wealthiest Americans, with the latest proposal featuring five specific rate changes and loophole closures for the country's wealthiest households.
He wants Americans to pay for children's preschool, two years of community college, and additional billions for childcare—and it will cost another $1.8 trillion.
To pay for his bloated new bill, Biden wants to hit America's businesses and wealthy citizens with even more taxation. Proving, once again, he seems to have more in common with Stalin than he does George Washington.
It looks like Biden believes in equality of outcomes, not opportunity. That's called socialism.
So, how are Americans reacting to yet another spending bill from Biden?
From Rasmussen Reports:
The Rasmussen Reports daily Presidential Tracking Poll for Wednesday shows that 48% of Likely U.S. Voters approve of President Biden's job performance. Fifty percent (50%) disapprove.

The latest figures include 30% who Strongly Approve of the job Biden is doing and 41% who Strongly Disapprove. This gives him a Presidential Approval Index rating of -11.
Continuing a trend we've seen for a while, Biden's approval remains dismally low, and it moving lower.
Even after trying to apparently bribe Americans with "free" childcare, voters just don't approve of what Biden is doing.
I think, after so many years of big promises of free stuff from Democrats, Americans are finally seeing the light. There is no such thing as a free lunch and no such thing as free handouts from the government.
All the stuff Biden is promising to give to families will be paid for… by, wait for it, other American families!
And it turns out rich people aren't piggy banks with endless supplies of money. Eventually, they are going to run out, or they will find ways to pass on those taxes to the average consumer.
That burden is going to fall on the rest of us—and hard.
What good is a few years of community college—when we can't earn enough cash to feed our families?
Biden thinks he is winning over Americans with all this ridiculous, endless spending. But it's clearly not working.
Do you support Biden's massive spending plans?
Key Takeaways:
Biden is set to announce another spending bill aimed at families.
The bill will cost $1.8 trillion and supposedly will target the wealthy with new taxes.
After this news came out, Biden's approval took another turn south according to Rasmussen.
Source: Daily Caller, Rasmussen Reports