New Hunter Scandal Slams into DOJ – Feds Accused of Refusing to Charge Biden Exposed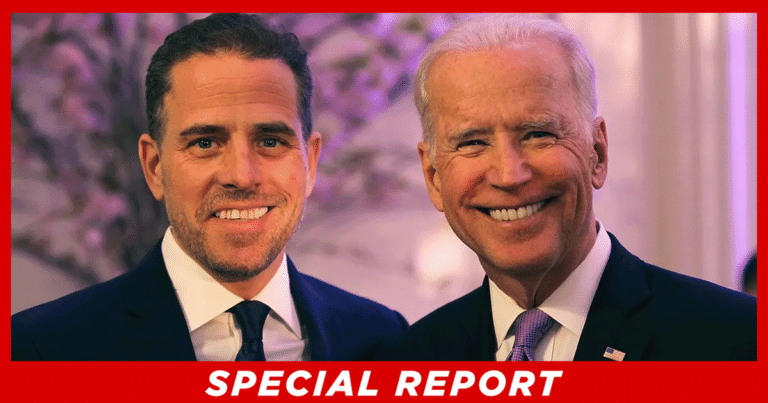 What's Happening:
Americans were shocked to learn that the Department of Justice pressured the IRS to drop a case against Hunter Biden. It seems that the DOJ, which answers to Joe Biden, refused to pursue charges against his son, even though he was guilty of serious crimes. Some believe the DOJ was protecting Biden himself since the IRS case could have revealed evidence of the supposed bribery scheme.
But thanks to a whistleblower, nearly everyone's heads are on the chopping block. Speaker McCarthy is close to impeaching Attorney General Garland. House Republicans are uncovering evidence against the Biden Crime Family. And now, more incriminating information is coming out on the agents who protected Hunter. Guess whom they donated to?
From Daily Caller:
One of the federal prosecutors who allegedly declined to charge Hunter Biden with tax fraud donated to President Joe Biden and the other gave money to Vice President Kamala Harris while working in the private sector, Federal Election Commission (FEC) records show.
Well, look at that. The very DOJ official who rejected calls to investigate Hunter Biden's crimes previously donated to Joe Biden and Kamala Harris.
A Trump-appointed attorney, David Weiss, recommended that the DOJ bring tax fraud charges against Hunter Biden. The request when to Matthew Graves, a U.S. attorney out of D.C. He rejected the request–ending a chance for Hunter to be brought to justice.
Oh, and it turns out Graves was appointed to his post by Biden after he donated to both Joe and Kamala while in the private sector.
Hmm… perhaps the fix was in from the start?
Graves is supposed to be unbiased in his pursuit of justice. But how can we believe he is doing the right thing when he gave over $1,000 to Biden's campaign? This man is clearly a Biden supporter. It is a conflict of interest for him to be overseeing cases involving Joe Biden's son.
Yet we are not supposed to ask questions about this? Many Americans believe Hunter Biden is guilty as sin. There is evidence to suggest the entire Biden family took part in a shocking bribery scheme. But the DOJ refuses to investigate at all–perverting the cause of justice.
Perhaps many officials need to be impeached?
Key Takeaways:
The DOJ official who rejected charges against Hunter donated to Joe Biden and Harris.
S. Attorney David Graves, a Biden appointee, donated to his campaign while in the private sector.
This comes after reports suggested Biden's family engaged in a bribery scheme.
Source: Daily Caller