Moments After IG Releases Long-Awaited Report – Trump Drops His Presidential Anvil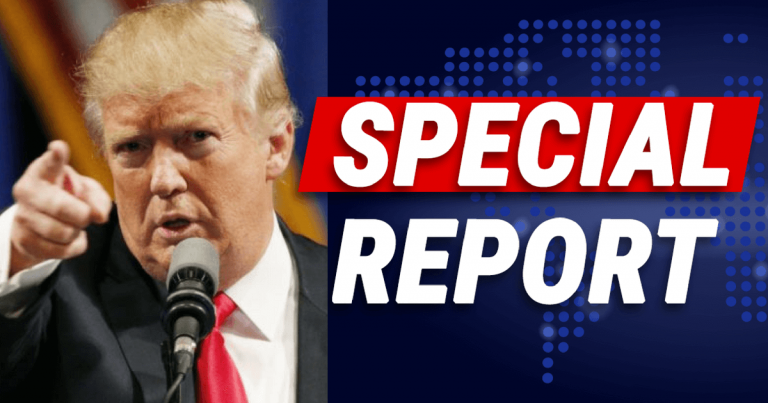 Big mistake – here comes 'The Donald!'
Patriots have been waiting a long time for the Inspector General to release his report on the FBI's spying of the Trump campaign.
He released it this week. The left has been taking victory laps because the career bureaucrat did not condemn the FBI for how they handled the investigation.
But the report makes it very clear that the FBI made a series of 17 significant "mistakes" in how they acquired their FISA warrant against Trump.
Those mistakes, to an intelligent person, suggest a clear effort to undermine the 2016 Election. Why Horowitz refused to say that is anyone's guess.
But AG Barr, and the president himself, tell a different story. And Trump just dropped a hammer on Obama's FBI.
From Breitbart:
President Donald Trump said he was deeply disturbed and saddened by the details found in the release of the Department of Justice Inspector General (IG) report on Monday.

"This was an overthrow of government, this was an attempted overthrow and a lot of people were in on it and they got caught," Trump said. "They got caught red-handed."

Trump noted that the report showed that FBI officials "fabricated evidence and they lied to the courts" on the FISA applications, which in his mind, was unforgivable.
President Trump slammed the FBI, saying agents tried to "overthrow" the government. He said he was deeply saddened by what the IG revealed in his report.
From what we can see, there were many shocking mistakes made when the FBI acquired a warrant to spy on Trump's campaign.
All those mistakes amount to a massive problem. How could career investigators, who knew the law and the process to get a warrant, make so many blunders?
Horowitz might be trying to protect the FBI by refusing to accuse them of wrong. But Trump sees it a different way.
This investigation started during one of the most important elections of our time. These agents worked for Obama, a Democrat who was endorsing one of the candidates.
The FBI was spying on Trump's campaign. They acquired a warrant using the dossier.
You don't have to be a psychic to see the obvious conflict of interest.
I'm sure there are more than a few Americans who agree with the president. There are enough details to believe that the FBI was trying to affect the outcome of our election—and later undermine the Trump administration.
SHARE if you agree with Trump, this was an attempt to overthrow our system!
Source: Breitbart