After Texas Sheriff Launches DeSantis Investigation – The Democrat Admits He Can't Cite Any Broken Law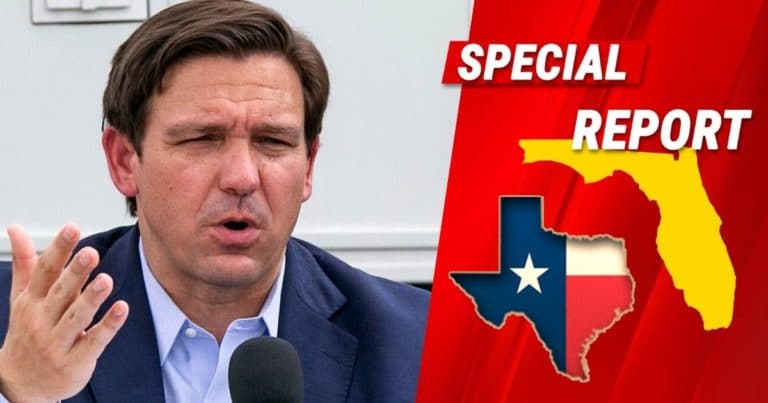 When Florida Governor Ron DeSantis sent 50 illegal immigrants to Martha's Vineyard, he was following in the footsteps of Texas Gov. Greg Abbott.
Abbott sent migrants to New York City, Washington, D.C., and Chicago. However, he never faced formal investigations for his actions.
Now, DeSantis is facing a probe — but the sheriff launching the investigation had to make a stunning admission.
Bexar County Sheriff Javier Salazar is looking into the Florida Governor's shipping of migrants to the ultra-rich liberal playground of Martha's Vineyard.
Salazar claims "it's wrong" and that the illegal travelers in question were "lured" into getting on the plane, which is an accusation we've heard from other sources.
However, the sheriff can't seem to point to any specific law that DeSantis broke (via The Daily Wire):
At this point, I'm not able to definitively say here's the statute that they broke either federal, state or local.

But what I can tell you is it's wrong just from a human rights perspective, what was done to these folks is wrong.
The sheriff plans to talk to the "victims" and witnesses to determine if they were duped into taking the flight to Massachusetts.
After that, they'll decide if "there was any criminal activity."
In response, DeSantis during a press conference said all the migrants were given a packet that included a map of Martha's Vineyard, and it was "obvious" where they were going.
On top of that, the Florida Voice reported early this week that they'd obtained one of the brochures the immigrants received:
BREAKING: Florida's Voice has confirmed with Ron DeSantis' office the below brochure was given to migrants who were voluntarily flown to Martha's Vineyard

The brochure contains information directly from the Massachusetts government website pic.twitter.com/IPRO4UD4ad

— Florida's Voice (@FLVoiceNews) September 19, 2022
The brochure, written in both English and Spanish, is called "Massachusetts Refugee Benefits" and includes pictures and relevant information.
DeSantis' office also said they were following federal law in this process, and the Governor has said "this is just the beginning."
No matter what happens with the investigation, though, you can expect the illegal immigration issue to be a top topic for the upcoming midterm elections.
Key Takeaways:
A sheriff is opening up an investigation into Florida Governor Ron DeSantis.
While he says the sending of migrants to Martha's Vineyard was "wrong," he can't name a particular law that was broken.
Despite the Governor's office showing a brochure that was clearly given to the migrants, explaining where they were going.
Source: The Daily Wire