Iran Flies Drone Aggressively Towards US Ship – Trump Fires Back With A Strong Response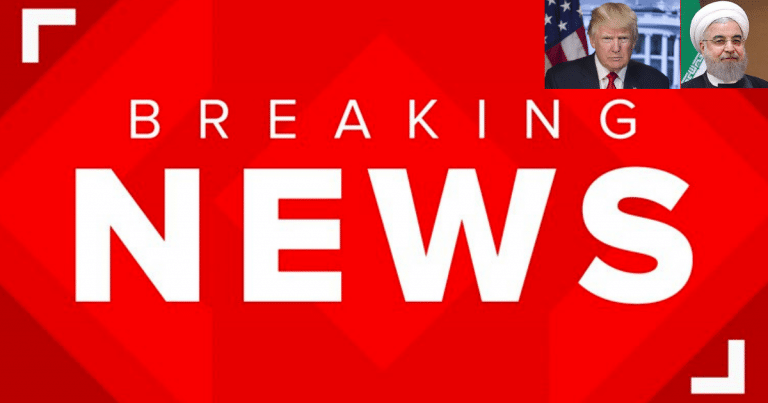 In recent months, we've seen the rogue nation of Iran become more and more aggressive.
They've reportedly been going after U.S. ally ships in the region. In just the past few weeks, they've even shot down an American drone.
At this point, it's clear this nation refuses to cooperate with its neighbors. They want to dominate the Middle East and threaten the safety of nations all around the world.
In response, President Trump has gotten tough with Iran: he nixed the nuclear deal and continues to impose sanctions on them.
But Iran just keeps pushing our buttons. What the heck are they even thinking?
Yesterday, they made an even bigger mistake…
Iran evidently decided to use one of its drones to threaten our forces … and Trump's military issued a fiery response.
From CNBC:
"Trump said Thursday that a U.S. Navy ship had destroyed an Iranian drone in a 'defensive action,' escalating already high tensions in the oil-rich Gulf region…

The USS Boxer, an amphibious assault ship, took down the drone in the Strait of Hormuz earlier Thursday, Trump claimed."
I want to apprise everyone of an incident in the Strait of Hormuz today, involving #USSBoxer, a U.S. Navy amphibious assault ship. The BOXER took defensive action against an Iranian drone…. pic.twitter.com/Zql6nAUGxF

— Donald J. Trump (@realDonaldTrump) July 18, 2019
Trump said this Iranian drone "had closed into a very, very near distance" to The Boxer (about 1,000 yards).
Furthermore, it ignored multiple calls to stand down, and was "threatening the safety of the ship and the ship's crew."
Well, there's only one way to respond to this aggression:
"The drone was immediately destroyed," Trump said.
Simply put, Iran refused to listen to our warnings. So, our ship destroyed their drone.
Of course, Iran is denying the entire event took place. Even some liberal media outlets are siding with Iran, casting doubt on the president's statement.
But recent evidence indicates that Iran definitely wants to harass U.S. forces in the Gulf.
For years, they've wanted to impose their radical, tyrannical control over the entire region. And it's clear they're NOT our ally.
At this point, I'm inclined to believe that the might of American forces is the only thing keeping Iran in check…
Yet they still try to harass and distress our military. However, there may come a day where they regret those actions—big time.
Such aggression will not stand and we have a President who will actually do something about it!
Source: CNBC