After Iran's President Insults Trump, Donald Responds With A "Great And Overwhelming" Warning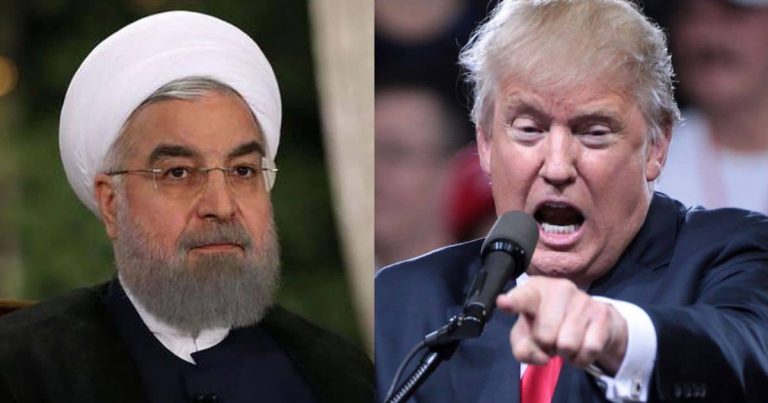 Don't insult the President of the United States.
That's the message Iran learned yesterday, after their leader hit Donald Trump with a particularly nasty insult.
Recently, Iran shot down a U.S. drone and Trump promised a swift and fiery retaliation if they stepped over the line again.
In response, Iranian President Hassan Rouhani called Trump "mentally retarded."
As you might expect, Donald felt compelled to respond to this fresh attack.
And instead of making it personal, our President dropped another warning…
From The Daily Wire:
"On Tuesday, after Iran's president Hassan Rouhani attacked President Trump, saying the White House's actions show that Trump is 'mentally retarded'…

…Trump fired back with a series of tweets warning Iran that if they attack anything American, that action would be met with 'great and overwhelming force.'"
The first Tweet was a simple statement of fact: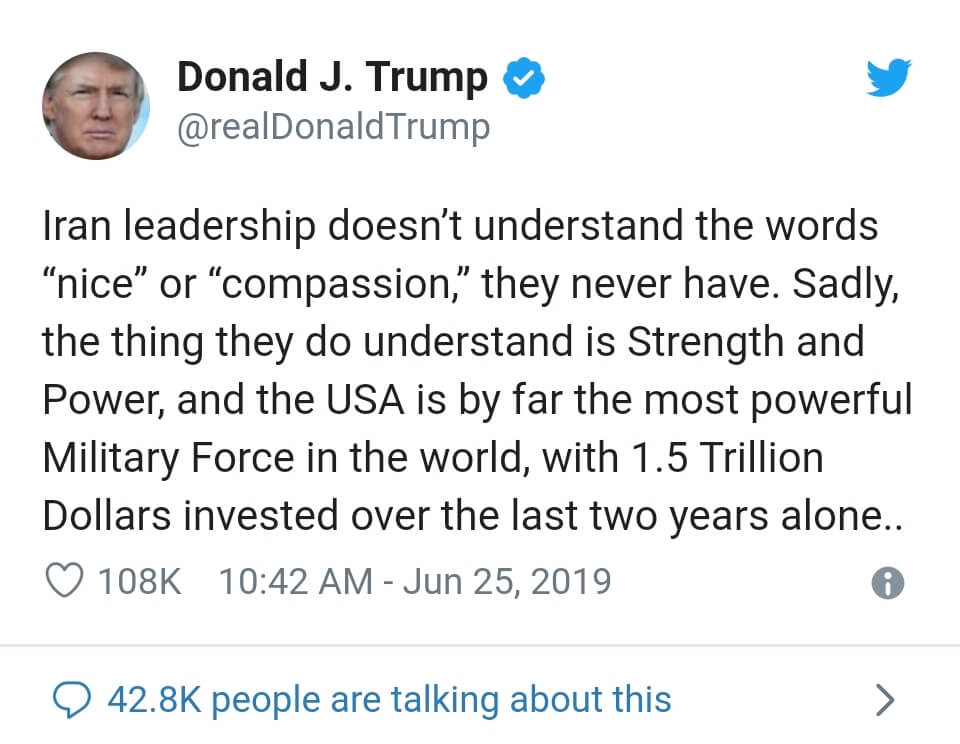 "Iran leadership doesn't understand the words 'nice' or 'compassion,' they never have.

Sadly, the thing they do understand is Strength and Power, and the USA is by far the most powerful Military Force in the world..

…with 1.5 Trillion Dollars invested over the last two years alone."
Then Trump reminded the world that the Iranian people are suffering under a tyrannical regime.
Furthermore, the President recalled Iran's attacks on American soldiers:
"The U.S. has not forgotten Iran's use of IEDs and EFPs (bombs), which killed 2000 Americans, and wounded many more," Trump said.
And finally, Trump issued a final and stern warning: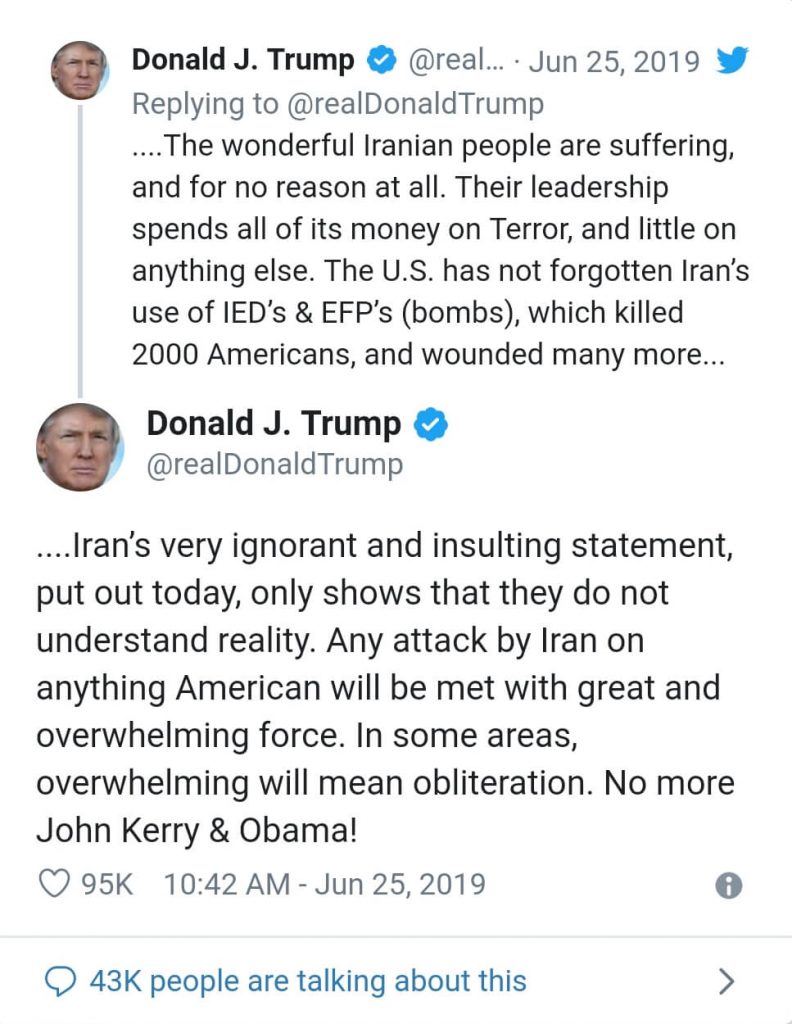 "Iran's very ignorant and insulting statement, put out today, only shows that they do not understand reality. Any attack by Iran on anything American will be met with great and overwhelming force. In some areas, overwhelming will mean obliteration. No more John Kerry & Obama!"
Remember, in 2016, Secretary of State John Kerry actually praised Iranian Foreign Minister Javad Zarif, which didn't go over well with conservatives.
The bottom line is Trump refuses to bow and scrape to foreign VIPs, and he certainly won't back down when insulted.
And you'll note that he didn't get into a childish name-calling match.
He just made it plain that American power is superior and if Iran's antagonizing doesn't stop, we're prepared to strike … and strike hard.
Do you support Trump's reply in this case, and what do you think about a war with Iran? Let us know in the comments!
Source: The Daily Wire