After Jane Fonda Makes Sick Comment on TV – Top Republican Goes Straight to the D.C. Police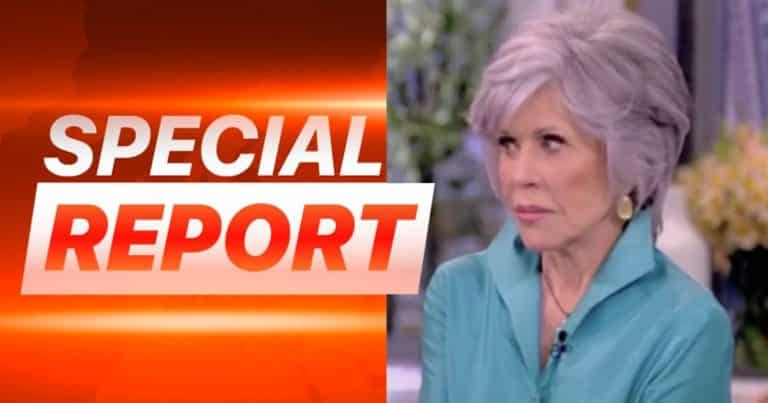 Ever since the Supreme Court overturned Roe v. Wade, the abortion issue has raged throughout the country.
Pro-Life vs. Pro-Choice has become the #1 topic for many citizens, and both sides have no interest in negotiation of any kind.
But now, one of Hollywood's most notorious leftists is taking heat for going way too far.
When appearing on The View late last week, Jane Fonda (still well-known to her critics as Hanoi Jane) got into the abortion argument.
She told co-host Joy Behar that marching and protesting might not be enough anymore.
And amazingly, she said "murder" might have to be an option to fight against pro-life activism. It stunned everyone who saw the clip, which quickly went viral.
Rep. Anna Paulina Luna (R-FL) was so shocked, she had to make a strong move (via Washington Examiner):
Luna has since reported Fonda and The View hosts to the Capitol Police, saying their discussion spawned a death threat.

'Unfortunately, for Ms. Fonda, Capitol Police takes this issue very seriously, as do I and many of my pro-life Republican colleagues,' Luna told Fox News's Jesse Watters.

'So I'm sure they will be investigating and she will be having to answer for her comments.'
Luna cited a death threat on social media that popped up below the video clip of Fonda's.
This disturbing remark said that "the only good conservative and Trump supporter is a dead one." Rep. Luna rightfully called this "alarming."
The congresswoman also ripped The View for being so militantly anti-female in a lot of ways:
They are supposed to pride themselves on being a channel that promotes women viewpoints, right? Yeah, if you are pro-life, they want to essentially promote someone that's calling for your murder.

For people to go on national news outlets and make these calls of violence simply because they don't like the fact that we are taking stands to protect life, these people are unhinged.

But they need to be held accountable. There should not be a double standard.
Fonda has since backpedaled and said it was in jest, and the show's hosts said the same thing.
The 85-year-old actress said that her "body language and tone made it clear to those in the room" that she was "using hyperbole to make a point."
However, critics maintain that suggesting murder should never be considered a joke.
On top of that, people point out that if a pro-life activist had said the same thing about possibly killing pro-choice advocates, it would've exploded in the mainstream media.
"Rules for thee but not for me" is a common refrain now.
Key Takeaways:
Jane Fonda suggested that "murder" might be a way to combat pro-life advocates.
She later said it was a jest but GOP Rep. Anna Paulina Luna noted death threats on social media and contacted the Capitol police.
Critics maintain that it's never a joke to say things like that.
Source: Washington Examiner