Jim Jordan Drops Hammer on Dr. Fauci – The House Leader Reveals He's Building Criminal Case Against Tony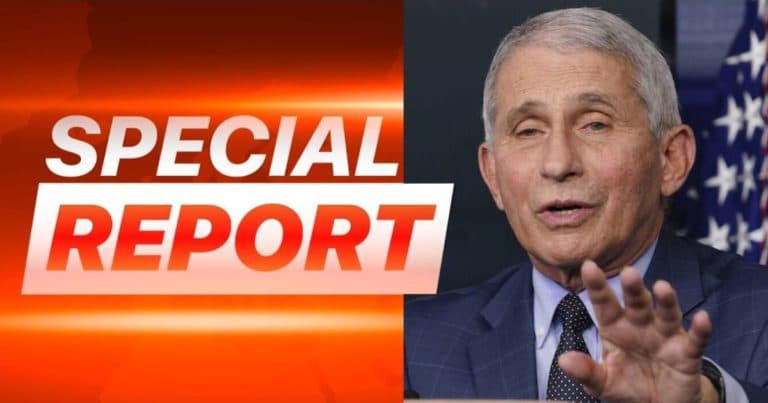 What's Happening:
Isn't it funny how little we've heard from Anthony Fauci ever since Republicans took over the House? For two years, we couldn't get away from that media darling.
Fauci popped up on nearly every network, just so he could lecture us on why we should accept lockdowns and mask mandates.
All the while Fauci refused to take any responsibility in the origins and fallout of the pandemic. But perhaps Fauci hasn't gotten away as scot-free as he thinks.
He might have retired, lying low for now, but Jim Jordan just released some news that old Fauci will not like. From The Western Journal:
Republican Rep. Jim Jordan of Ohio said Saturday that House Republicans are building their case against Dr. Anthony Fauci…

"We could do a referral potentially. I would, frankly, prefer just to have Dr. Fauci come back in and take another round of questions here, but we're building the case," he said.

Jordan said House Republicans are "laying that foundation."
Uh-oh. Rep. Jim Jordan revealed that House Republicans were building their case against former COVID advisor Anthony Fauci. Jordan said that he was considering bringing in Fauci for more questions. A criminal referral to the DOJ is an option, but it looks like House Republicans want more evidence before they make that move.
Jordan accused Fauci and the CDC of changing the definition of "gain-of-function research" to protect themselves. We've heard for a long time that Fauci was working with the Wuhan lab in their efforts to artificially strengthen COVID viruses. And when the outbreak started, released emails suggest Fauci was involved in some kind of cover-up.
It's pretty disgusting to think that the man partly responsible for this pandemic ended up being the one to advise our country on how to handle it. Not only could he be responsible for the outbreak in the first place, but he went out of his way to make the situation worse, pushing harmful lockdowns and mandates.
If you add it all up, Fauci might be responsible for all of the hardship America experienced during the pandemic–both the start and botched response.
But it appears Fauci has used his power within the government to cover all of that up. He refuses to admit his lockdown advice hurt the country in unspeakable ways. And he has tried to manipulate the government to avoid getting blamed for the outbreak.
It doesn't look as if House Republicans are happy with what Fauci has done. We can't say if Biden's DOJ will prosecute, but Jordan and his team will do whatever it takes to reveal the truth to the public.
Key Takeaways:
Jim Jordan revealed the House was building a case against Anthony Fauci.
The scope of their investigation appears to be on Fauci's support of Wuhan's' "gain-of-function" research.
Fauci could be responsible for the outbreak and botched response to COVID.
Source: The Western Journal