Jim Jordan And Donald Trump Join Forces – They Just Rejected The Whistleblower's Request To "Write It In"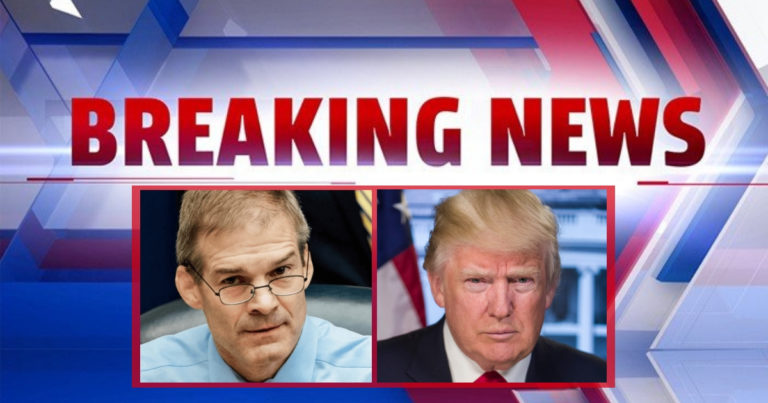 They are powerful by themselves – but together, Jordan and Trump are a powerful force!
The left's impeachment push was all started by a so-called whistleblower's complaint.
To date, we don't even know who this guy is. His original complaint was riddled with errors shown to be wrong by the transcript.
Yet Democrats continue this charade, all the while keeping this person's identity a secret.
It seems that now, Democrats want to throw this person away—since he doesn't seem useful anymore.
They want to deny him a chance to testify in the open, as it should have been in the first place, to let the President face his accuser.
Now the whistleblower is willing to answer hand-written questions from Republicans.
But the GOP and Trump is not having that.
From Washington Examiner:
House Oversight Committee ranking member Rep. Jim Jordan declined an offer from the whistleblower's lawyer to provide written answers to questions submitted by House Republicans…

Jordan claimed Sunday that, "Written answers will not provide a sufficient opportunity to probe all the relevant facts and cross examine the so-called Whistleblower. You don't get to ignite an impeachment effort and never account for your actions and role in orchestrating it."
Wow, talk about a con-job. And Trump is backing up Jordan on Twitter – he won't accept anything except hearing the whistleblower speak.
This so-called whistleblower is a partisan man closely-associated with Democrats. This person had the gall to accuse the president of crimes—demanding an impeachment hearing.
Yet he refuses to face the president in public. Which is required by law for anyone.
Now he says he'll answer questions only submitted in writing. Really?
How could we even know this mystery person is the one answering them? We don't even know who he is.
It could be Kermit the Frog, for all we know!
Why would Republicans agree to such a bogus arrangement? Trump and Republican leaders have the right to see this man face to face.
He tried to overthrow the will of the people by removing the president from office. The least he could do is be a man and face his enemies.
This man and his Democrat allies still want to play games. But time is running out and so is our patience.
SHARE if you demand to hear the whistleblower testify publicly!
Source: Washington Examiner