After America Posts 'Historic Jobs Numbers' – Trump Warns If He Loses 2020, A 1929-Level Crash Is Coming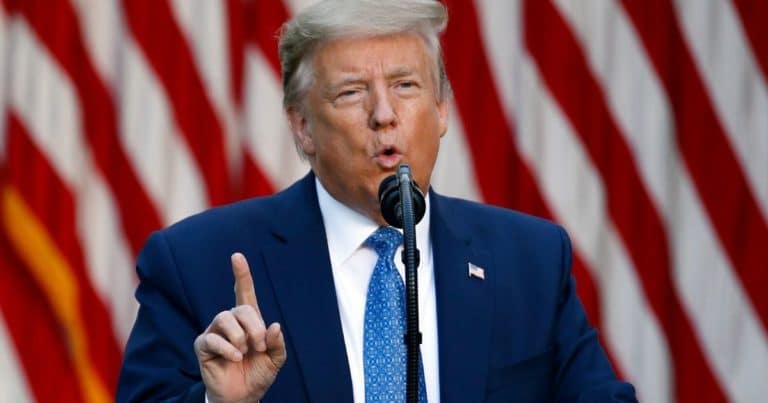 What's Happening:
The government-mandated shutdowns during the Spring resulted in a major loss of jobs. Over 22 million Americans were put out of work but when numerous states began to reopen, the bounceback began in May with a gain of 3 million jobs.
Now, the June job numbers are in and they have smashed records.
Nearly 5 million Americans went back to work in June, a number Trump was quick to celebrate:
HISTORIC JOBS NUMBERS! #MAGA pic.twitter.com/ncAkWV0D2c

— Donald J. Trump (@realDonaldTrump) July 2, 2020
But soon after he shared the good news, the president made a dire warning about what would happen to the economic recovery, should Joe Biden win the election:
With the economy gradually reopening and jobs coming back, Trump predicted that by next year the country will be in an even stronger position than prior to the pandemic. That is, he warned, as long as he wins in November and remains in office.

"You'll have a crash like you've never seen before," Trump said, warning against potential Democratic tax hikes. "You put the wrong person in office, you'll see things that you would not have believed were possible."
President Trump's policies helped the American economy grow significantly, before the pandemic. His tax cuts and deregulation (as well as immigration reform) resulted in more jobs with higher wages.
The COVID lockdowns put many out of work, but President Trump was quick to roll out a plan for reopening the states.
His administration helped prevent a total shutdown of our economy with loans to small businesses. Now, with companies getting back to work, millions of Americans have their jobs back.
However, Trump warns that Joe Biden and Democrats in Congress would reverse his policies. He says they would increase taxes, create new crippling regulations, and burden Americans with massive social programs.
In fact, Joe Biden has already promised to raise taxes and create heavy environmental regulation.
The president says this would bring a crash like the one in 1929—which lead to the Great Depression.
It is likely that a President Biden would seek to restore much of the Obama-era regulation, which encouraged companies (including white collars jobs) to flee overseas.
Biden would also try to appoint far-left Supreme Court justices, who would push a radical, progressive agenda through the courts.
Key Takeaways:
President Trump touted the record job numbers from June.
Trump warned that a crash similar to 1929 would happen if Joe Biden was elected.
Biden has already promised to increase taxes and regulation