After Biden Claims 'No Regrets' for Shooting Down Balloon – New Evidence Claims One of the Balloons Was an Amateur Pio Balloon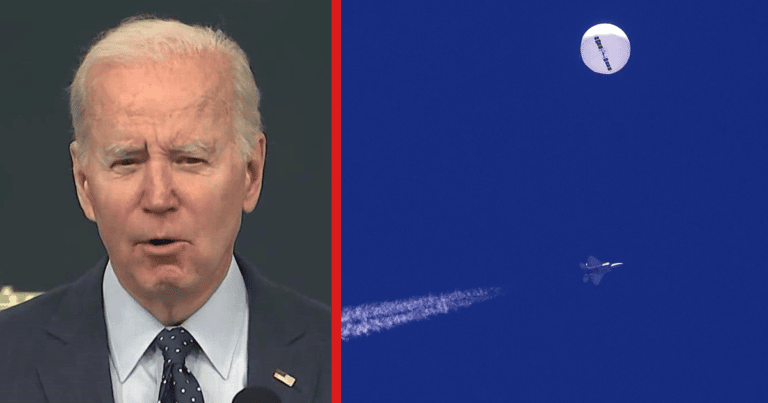 What's Happening:
When America learned that China had sent a spy balloon over the country, Biden waited days before shooting it down. He did nothing as the communist nation spied on most of the country. Clearly, this was bad press for the failed president. So, when news came out that other unidentifiable balloons were spotted, Biden rushed and had them shot down immediately.
This is a pattern we've seen from this dysfunctional administration. They screw up, get everyone angry. So, they overcompensate, recklessly putting out the fires. But, Biden ends up making a bigger mess than before. When pressed about hastily shooting down those balloons, Biden claims he has no regrets.
From The Post Millennial:
These three objects, Biden said, are not thought to be additional Chinese spy balloons… "But make no mistake. If any object presents a threat to the safety, security, the American people I will take it down," Biden added.
Biden admitted those balloons that he hastily ordered shot down were not spy balloons. But he stands by his knee-jerk decision. Now, we are finding out what those balloons might have been, including a peaceful object used by enthusiasts.
From The Post Millennial:
Following the shooting down of three unidentified flying objects in North American airspace between February 10 and 12, a hobbyist club's "missing in action" pico balloon may be to blame for one instance.
Sounds about right. Biden failed to stop a Chinese balloon from spying on Americans. But he rushed out and shot down a balloon being used by the Northern Illinois Bottlecap Balloon Brigade. This brave little balloon had traveled the globe six times. It meant nobody harm.
That balloon Biden blasts out of the sky with a vengeance. Do you know how much it cost for Biden to shoot down a harmless balloon? You're going to love this.
Biden says we still don't know what the "objects" are but that they aren't tied to China. Instead likely belong to private companies for scientific research.

Biden used $400,000 missiles to shoot down weather balloons after allowing Chinese spy balloon to travel the country.

— Katie Pavlich (@KatiePavlich) February 16, 2023
That's right. Biden spent $400,000 to shoot down balloons used for scientific research. They were either owned by private companies or peaceful Americans. Either way, Biden wasted your tax dollars to screw up perfectly lawful activity.
Sen. Ted Cruz blasted Joe for this reckless and idiotic shooting spree.
From Fox News:
Cruz, R-Texas, joked that Biden's decision to authorize the $200 million fighter jet to use a $400,000 missile to shoot down what may have been a $12 balloon serves as a "powerful deterrence" to high school students interested in creating their own at-home science balloons.
Does Biden have any clue what he is doing? He sits back and lets China walk all over us. Then, he walks all over us. It's clear this man does not have the brains or resolve to lead this country. The scary thing is, we might not be able to wait until 2024 to get rid of him.
Key Takeaways:
Joe Biden admitted he hastily shot down balloons that were not from China.
One of the balloons might have been from a lawful club; the others were used for scientific research.
Biden spent $400,000 per balloon, to shoot down American projects.
Source: The Post Millennial, The Post Millennial, Twitter, Fox News