After Biden Takes Credit for 'Saving' Banks – Joe's Own Party Turns the Tables on Him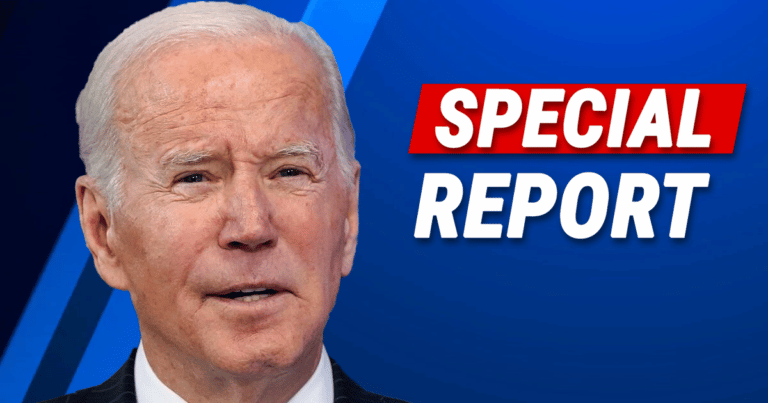 What's Happening:
Well, look at that! Another crisis under the Biden administration. You know, when Trump was president, the only crisis we faced was started by a foreign country who works against us. But under Biden, our government keeps helping fuel crisis after crisis.
This time, it isn't the border, inflation, gas prices, conflict overseas, or crime. It's the banks. Yes, the last place anyone wants to see red flags, the banking industry, is facing some dark days. This comes just after Biden forced investors into putting money in "woke" investments. So far, two banks had to be bailed out by Biden. And while most will see this as a bad omen, Biden is trying to take a victory lap!
From Daily Wire:
President Joe Biden patted himself on the back Monday morning as multiple banks have collapsed in recent days, claiming that the "quick action" of his administration has stabilized the banking industry…

"During the Obama-Biden administration, we put in place tough requirements on banks like Silicon Valley Bank and Signature Bank, including the Dodd-Frank law to make sure the crisis we saw in 2008 would not happen again," he said. "Unfortunately, the last administration rolled back some of these requirements."
Biden didn't mention those "roll backs" were endorsed by Barny Frank, a Democrat who wrote the Dodd-Frank law.
Isn't it funny how Biden is trying to take credit for banks failing? He blamed Trump for rolling back requirements (without proof that is what hurt these two banks), but he had two years to reinstate those requirements, but did nothing.
Instead, he's trying to brag that his administration was "quick" to help these woke banks as they collapsed. As if anyone will use the word "quick" to describe Biden in any way! But his own party isn't impressed with Biden's actions. In fact, one Democrat is blasting Joe, for being slow.
From Daily Wire:
Rep. Ro Khanna (D-CA) suggested during an interview on Sunday that the Biden administration was not grasping the true scale of how bad the situation is regarding the collapsed Silicon Valley Bank…

"I think it's just that right now things move at the speed of Twitter, and the government doesn't move at that speed."
Khanna blasted the Biden administration for moving too slow. The problems with these banks had been brewing for a while. News hit that Silicon Valley Bank was in trouble last Wednesday. Biden didn't do anything until Friday.
That doesn't seem bad, right? Except a lot can happen in just a few hours, let alone a few days. Biden's administration sat around for two days, as panic was brewing, before the FDIC did anything.
Biden is bragging about how "fast" he was, when one of his own party members is warning he is too slow.
Key Takeaways:
Biden tried to brag about two banks collapsing over the weekend.
He suggested Trump "rolled back" requirements, without proving they would have helped.
Democrat Ro Khanna criticized Biden for acting too slowly, as the crisis exploded.
Source: Daily Wire, Daily Wire