Moments After Biden Steps Foot on the Border – Protesters Show up Waving Signs Saying 'Impeach 46'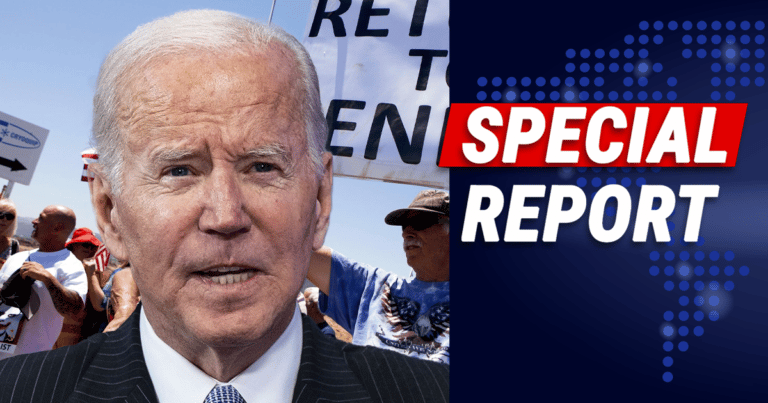 What's Happening:
Anyone paying attention knew from the start that Biden's border trip was a sham. Biden has deliberately left the border open for two years. Why would he suddenly now care that millions have overrun it? We learned that El Paso cleared away the thousands of aliens crowding their streets just before Biden arrived. All so Joe could present a fake image to the liberal media.
But his scheme was spoiled almost immediately. Biden was expecting an easy photo-op to prop up his fading 2024 re-election chances. The left-wing Democrat got a rude awakening, though, when American patriots were on hand to greet him.
From The Post Millennial:
President Joe Biden briefly visited the southern border on Sunday, spending a short period of time in El Paso, Texas during the afternoon. He was greeted by hundreds of protesters calling for his impeachment.

Protesters held signs saying "IMPEACH 46" and Trump 20204. It was Biden's first visit during his presidency…

Brandon Judd, President of the National Border Patrol Council, said to Fox News that Biden failed to visit multiple highly critical areas.
Protesters greeted Joe Biden in El Paso today during his first visit to the open US Border. Since Joe Biden took over the White House the southern border has been wide open to illegal aliens. pic.twitter.com/sXM3YpQ4yH

— 🅿️®️ESTİJ (@prestijworld) January 9, 2023
As we expected, Joe Biden's trip to the border was carefully controlled to avoid showing the real problem. He simply viewed areas that are not hot spots of illegal activity. And the city of El Paso, which was overrun with thousands of aliens, was cleaned up before he arrived.
But Joe did get to hear the shouts of angry Americans as he posed for his photos. Protesters showed up to Biden's visit shouting for him to be impeached. Some carried Trump 2024 flags while others chanted "IMPEACH 46."
Some Republicans have floated impeaching Joe Biden over the border crisis. The president took an oath to defend the United States. Yet evidence suggests Biden is deliberately violating that oath by refusing to enforce our immigration laws.
More than that, Biden removed protections meant to keep the border safe. His DHS is preventing Border agents from deporting illegal aliens. And he has been found busing illegals to various communities across the country.
That could meet the threshold of "high crimes," if some Republicans have their way.
It seems that, if they do impeach Biden, they'll have quite a few Americans behind them.
Key Takeaways:
Joe Biden was greeted by protesters during his trip to the "border."
Angry Americans shouted for Joe's impeachment over the border crisis.
Biden's trip appeared to be a sham, with him avoiding actual hot spots for illegals.
Source: The Post Millennial