New Evidence Erupts in Biden Scandal – Joe Rented His House to Hunter for the Exorbitant Amount of $49K… Per Month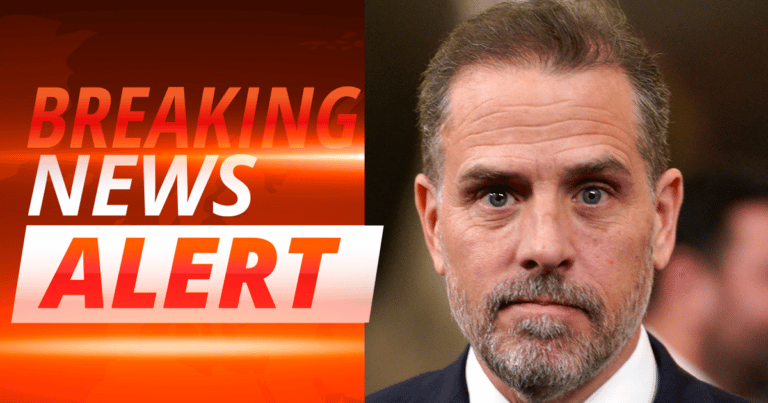 What's Happening:
Joe Biden is treading water, trying to stay afloat during this growing document scandal. The administration has taken a huge hit after Americans learned Biden was improperly keeping classified documents at his private home in Delaware. Some of these documents were in his garage, next to his Corvette.
Now, things are getting even worse. As it turns out, his infamous son Hunter Biden had lived at this home for a year–between March 2017 and February 2018. Hunter, a man connected with a mountain of scandals himself, would have had easy access to Joe's library and garage. Even more troubling, was that Hunter was paying his father rent. And the amount is raising serious questions.
From Breitbart:
Hunter Biden recorded monthly rent payments of $49,910 while living at President Joe Biden's residence, according to a document unearthed by New York Post's Miranda Devine.

On a document titled "background screening request," it appears Hunter paid $49,910 in monthly rent for one year while living at Joe Biden's Delaware residence, where the president kept classified documents alongside his Corvette in the garage.
What the heck is going on? Hunter Biden was living at one of Joe's houses. The same house where Joe kept classified documents, in violation of federal law. That's not even the half of it. During that year, Hunter was paying his father nearly $50,000 a month in rent.
To make it even more confusing, the document listing the rent also shows that Hunter checked a box that claims he owned the home. So… why was he paying rent to Joe? To make matters worse, Joe Biden's 2017 tax return lists only $19,800 in "rents received." And he listed no rent received in 2018.
Does anyone else smell a rat? Why was Joe's son paying him rent at all? Is it normal for a parent to charge rent to a kid who is crashing at their place? But more than that, why is he paying such a large amount of rent? That comes to about $600,000.
Was Hunter really paying that much to live at Joe's house? Or was this a clever way for him to pay back the "big guy"? Many Americans worry that Joe Biden was involved in many of Hunter's seemingly illegal business deals. Some of the documents recovered from Hunter's laptop could prove that Biden was helping Hunter land big deals.
And now, we know that Hunter was paying his dad a large sum of money as "rent," when Biden claims he didn't receive rent. Was this just a scheme to pay back Joe, without anyone noticing? We can't be sure. But it adds another serious concern to Biden's growing documents scandal.
Perhaps Biden left those documents at the house, so Hunter can provide them to some of his Chinese backers? We don't know… but Republicans better get to the bottom of this.
Key Takeaways:
Hunter Biden paid his father over $600,000 in rent for a year, to live in his Delaware house.
This is the same house in which Biden improperly kept classified documents.
Joe has been implicated in some of Hunter's shady business deals, based on documents from his laptop.
Source: Breitbart