Biden's Holy Grail Just Fell to Pieces – Americans Just Turned Against Joe's Unconstitutional Crusade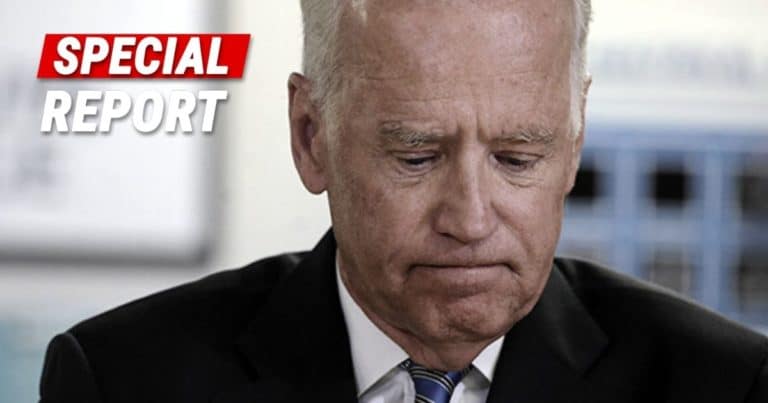 What's Happening:
With Republicans taking back the House, it's safe to say Joe Biden's presidency is over. Republicans will refuse to pass any bill Biden wants. And they will be investigating him, his corrupt family, and his administration.
But it looks like the American people are shutting down Biden's agenda another way. Biden has ordered Congress to make this one issue a top priority. He has even used executive orders and various federal agencies to get it done. But now, Americans are turning their back on one of the Democrats' biggest sacred cows: gun control.
From Breitbart:
A Gallup poll reported Monday that support for stricter gun control fell from 66 percent in June to 57 percent near the end of October…

Gallup found 46 percent of Americans says there is a gun in their home or somewhere on their property while 33 percent said they "personally own a gun."

When broken down by political party affiliation, 66 percent of Republican respondents said they have a gun in their home or somewhere on their property versus 31 percent of Democrats who said the same.
Well, look at that. Joe Biden previously ordered Congress to pass strict gun control. Congress failed to pass measures Biden had called for, including banning AR-15s and limiting magazine capacity. And now, support for gun control is rapidly declining among voters.
This comes as the Supreme Court struck down blue states' ability to enact heavy gun control. The court shut down a New York gun control law. The state responded by passing an even heavier gun control law–which is currently being challenged in the courts.
Democrats have long used tragedies like shootings to push radical restrictions on the Second Amendment. Yet data shows that gun ownership is not to blame for these events. In fact, areas with heavy gun control are often the scene of these criminal acts.
Yet Democrats continue to push laws that violate the Second Amendment. And they spread fear and dread to manipulate Americans into believing gun control is the only way to end violence. Yet the data never bares that out. It's often the opposite.
But we're supposed to just blindly believe gun control is the only answer. Which, of course, is the only answer that makes Americans less independent and more vulnerable.
Is that what Democrats want?
Key Takeaways:
A new Gallup poll reveals support for gun control has fallen among voters since June.
Joe Biden has made gun control a top priority for his administration.
Democrats have called for the banning of semiautomatic rifles and other restrictions.
Source: Breitbart