Biden Makes Eye-Opening Gaffe in Ireland – Manages to Insult an Entire Country with "Black and Tans"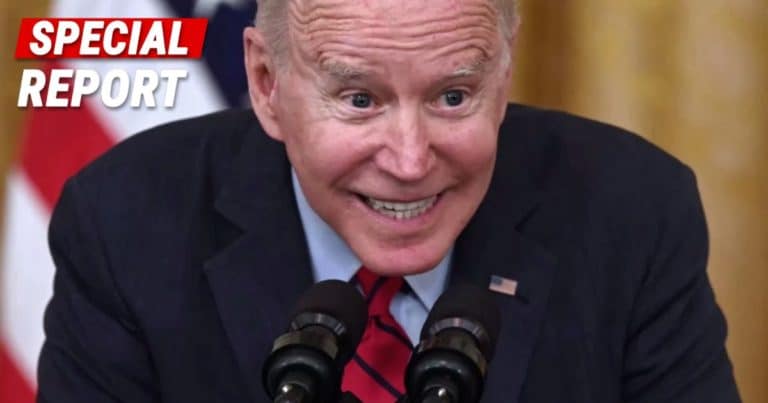 What's Happening:
Failed president Joe Biden, perhaps eager to escape the "ire" of Americans, fled to Ireland this week. Not sure why he's there. All the pub appearances in the world aren't going to save this sinking ship.
But Ireland has long been our ally. So, there's no fear that a buffoon like Biden could mess that up, right? He did tick off France to the point where they no longer respect us. But this is Joe's ancestral land. There's no way he'd do something that–oh, wait, he just did.
From Fox News:
President Biden mixed up a New Zealand rugby team and a historic British occupying force of Ireland on Wednesday during a speech at the Windsor Bar in Dundalk…

"This was given to me by one of these guys, right here," Biden said Wednesday. "He was a hell of a rugby player. He beat the hell out of the Black and Tans."

[The Black and Tans] became known for particular brutality toward dissident Irish citizens — the Black and Tans remain a common cultural symbol of the occupation years.
Uh, no no no… It's not every day that Joe manages to remind an entire nation of how they were oppressed and mistreated by the British! Biden mentioned his tie, given to him by a distant relative who recently defeated the New Zealand All Blacks in rugby.
But instead, Biden calls the team "the Black and Tans." Which happens to be the name of a British police force that brutally mistreated Irish citizens who disagreed with the British government. The term remains a symbol of the years when Britain oppressed Ireland.
Good job, Joe!
Now, normally, we can overlook this kind of misstep. Hey, everyone mixes up the name of a sports team with a brutally fascist group, right? But this is Joe Biden a man who is supposed to be the president. Presidents can't afford to make insulting gaffes like this.
A competent president would think before he said anything. But we know Joe Biden is far too old for this job. Many wonder if he is suffering from mental decline. So, we can just assume this gaffe was the result of this aging man's inability to put thoughts together.
His handlers must be working overtime to control every aspect of his image. But even they can't control him 24/7. The world needs to see that Joe Biden is too old and ill to do this job.
I mean, for a president to insult an ally like Ireland is pretty low.
Key Takeaways:
Joe Biden made an insulting gaffe during his trip to Ireland.
He called a New Zealand team the "All Blacks," the "Black and Tans."
The Black and Tans was a brutal British police force that oppressed the Irish in the 1920s.
Source: Fox News