House GOP Launches Biden Family Investigation – They Just Went After Bank Violations, Funding Sources and Hunter's Art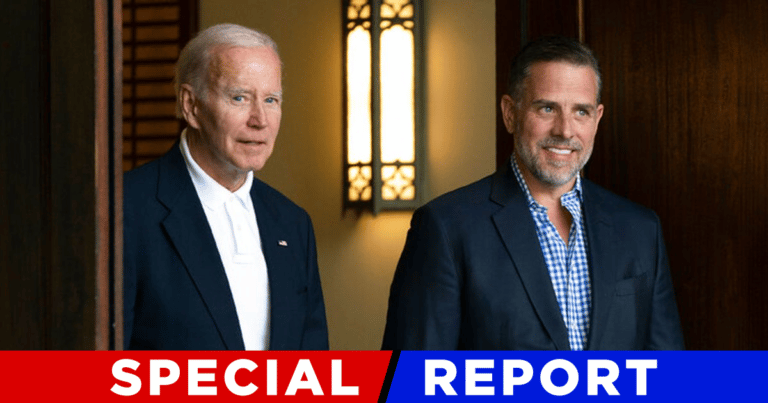 What's Happening:
House Republicans vowed to get to the bottom of Joe Biden's history of corruption. Now that they are in control of the House, they are wasting no time. James Comer is the new chair of the House Oversight Committee. And he has already launched investigations into the Biden administration's shocking failure.
But he's just getting started. Comer just announced his latest move to take down old Joe. His committee is taking a hard look at what his siblings and son have been doing over the years. And this investigation could take down the entire Biden crime family.
From The Washington Examiner:
House Oversight Committee Chairman James Comer (R-KY) said his committee will zero in on Biden family finances in the "next phase" of his investigation…

"We'll be looking at bank statements. We'll be looking at bank violations. That's the next phase of our investigation because we're trying to figure out who these anonymous sources are that are sending so much money to the Biden family schemes — the Biden Center for Diplomacy and Hunter Biden's artwork."
Uh, oh. Joe should be getting worried right about now. James Comer revealed that his investigation into Joe Biden will include his entire family. Specifically, the House Oversight Committee will be chasing down those "anonymous" donors who have been making the Bidens rich.
Comer said his team will be looking at bank statements to learn just who has been sending cash Joe's way. That includes donations to the so-called Biden Center for Diplomacy. We all know other Democrats who created non-profits and used them to funnel money into their pockets. Who was donating to this "Center for Diplomacy"? (Why does Joe Biden even need a center for that? Unless it gives China and others a good reason to send him cash.)
Not only that, but Comer is about to blow the lid off of one of Hunter Biden's latest schemes. Americans were shocked when this former businessman suddenly became an artist. Hunter was selling paintings for hundreds of thousands of dollars. Even Obama's former ethics chief said this was fishy. The White House deliberately hid the names of the buyers–so we'd never know who had access to the Biden family.
All of that stunk to high heaven. But we weren't supposed to demand answers? Who has been bankrolling this family? Americans need to know. And if Biden tries to hide it, Comer just may flush it all out.
Key Takeaways:
Republican James Comer is ramping up his investigation against Joe Biden.
The House Oversight Committee will be looking at Biden family bank statements.
Comer will be looking at who has been donating to the "Biden Center for Diplomacy" and who bought Hunter Biden's paintings.
Source: The Washington Examiner