Joe Biden Just Crossed The Line – He Plans To Use The Military On Trump If He Refuses To Leave Office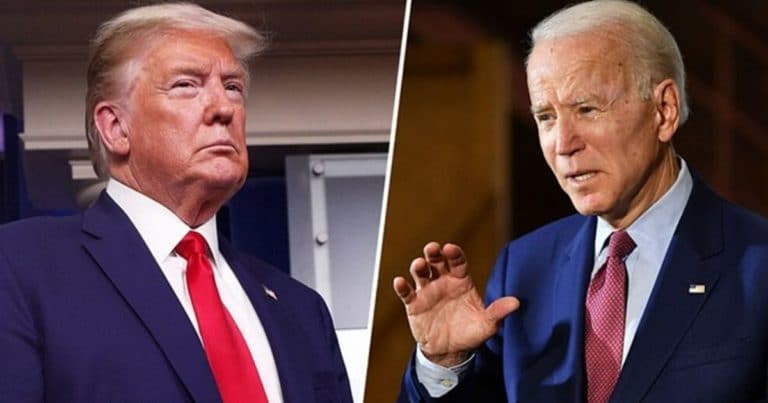 It looks like Joe Biden is already spreading more conspiracy theories. Of course, the media isn't questioning him for a second.
He is beginning to suggest Trump might steal the election. And now he's apparently charging Trump with a new accusation.
Because Biden's already making plans if Donald Trump refuses to leave the White House.
From Breitbart:
Biden stated, "I was so damn proud. You have four chiefs of staff coming out and ripping the skin off of Trump. And you have so many rank and file military personnel saying, whoa, we're not a military state. This is not who we are. I promise you, I am absolutely convinced they will escort him from the White House with great dispatch."
Joe Biden claimed during an interview that "rank and file" military personnel are criticizing the president.
Probably referring to Mattis' recent complaints, he also said that "chiefs of staff" are "ripping the skin" off Trump.
He then goes on to fantasize about a scenario where soldiers will gladly escort Trump from office if he should lose the election.
Our Take:
Let's be honest, which party appears far more unwilling to let go of their power?
On the night over November 8, 2016, despite the votes being counted, Hillary Clinton refused to concede. Some states demand needless recounts over the course of the coming months.
Democrats launched an impeachment, just to remove Trump from office. Every time Trump uses his lawful authority, they sued and sued.
Yet Biden is claiming Trump is the power-hungry one?
Trump's record in office shows he is restoring power to the American people. The opposite of what liberal governors and mayors did during the pandemic.
Also concerning? How the Daily Show oddly edited this section, as if Joe Biden said something else. What else did Joe say that they might be hiding?
Democrat accused Trump of getting into politics for wealth and power. Then what is Joe in it for—a man who has been in D.C. since the 1970s?
Imagine Joe Biden trying to send in troops to "remove" Trump from office. Such a claim is ludicrous, to say the least.
Remember, since Trump won in 2016, some liberals haven't stopped complaining, protesting, and stirring up outrage.
But no, it's Trump who needs to be apprehended by the army!
SHARE to show people the kind of thing Joe Biden dreams about.
Source: Breitbart