After Ted Cruz Unleashes on Biden Nominee – The Far-Left Pick Gets Hit by Democrat, Forced to Step Down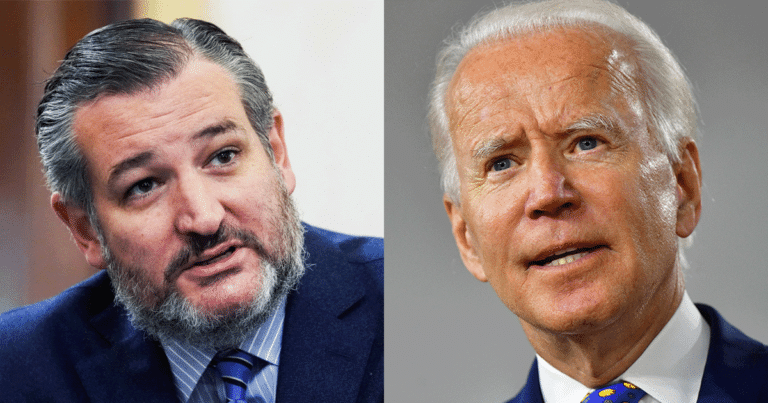 What's Happening:
From the very start of the Biden administration, we discovered one thing: Joe seems to have packed his White House full of idiots.
Joeisn't picking people because of their qualifications, but because of their political allegiances. That's why a cross-dressing man within the Energy Department was arrested for stealing numerous pieces of luggage at airports.
And why so many of Biden's top officials can't even do the most basic parts of their job. Well, Biden was set to do even more damage by picking a radical socialist to chair one of the most important agencies in the country. This partisan could have gained control over much of what you see and hear.
Thankfully, Sen. Ted Cruz blew the whistle on Joe's nominee! From Daily Wire:
President Joe Biden's nominee to the Federal Communications Commission (FCC) went down in flames on Tuesday after she faced a brutal confirmation process…

Sen. Ted Cruz (R-TX), Ranking Member of the Senate Commerce Committee, led the Republican opposition during Sohn's confirmation hearings by highlighting her history of advocating for censorship of conservatives, hostility to Right-wing media, "brazen theft of intellectual property," her conflicts of interest, her not showing "candor" with the committee, and controversial political donations that she made while undergoing the confirmation process.
Boom, boom, and boom!  Sen. Cruz exposed Joe Biden's pick for the FCC Gigi Sohn, over her shocking partisan history. This woman has a record of supporting censorship of conservatives. She is even on record as saying Fox News–the biggest news network in the country–is destroying our democracy.
Why? Because they are the only network willing to confront Joe Biden?
Cruz revealed Sohn has "hostility to conservative speech." This means she would use her power in the FCC to go after conservative programming and content. Both on TV and online. But worst of all, Ted Cruz revealed that Sohn gave political contributions to Democrat senators, while she was being considered for this job!
Um… what do you call that? Bribery, I think. Cruz asked her if she thought it was "poor judgment" to do that. She said, no!
It's pretty shocking that the Biden administration wanted this partisan, left-wing radical to sit on the FCC. Imagine what damage she could have caused to free speech in this country? But after Cruz's brutal takedown, even Joe Manchin couldn't support her. Without his vote, this woman would never make it to the FCC.
So, to save herself some embarrassment, she withdrew her nomination.
Key Takeaways:
Biden's pick for the FCC withdrew her nomination after Sen. Cruz exposed her.
Gigi Sohn was a left-wing partisan who opposed free speech for conservatives.
After Cruz confronted her, Sen. Manchin refused to support her.
Source: Daily Wire