Clarence Thomas Hammers Biden with the Constitution – The Supreme Court Justice Signals the End of Joe's Crusade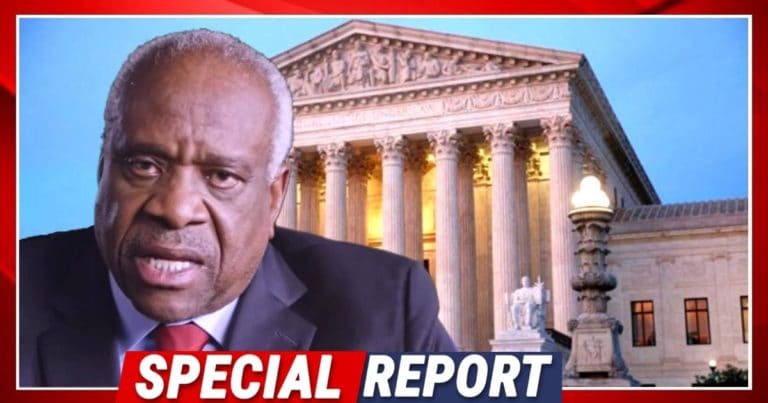 What's Happening:
The Supreme Court has been making hay out of many of Joe Biden's schemes. The conservative majority of the court (thanks to Donald Trump) has been our final line of defense against the left's worst plans. The court has overturned Roe v Wade, state attacks on the Second Amendment, and much more.
But they are far from done.
The court is hearing arguments over one of Biden's most shocking schemes. Biden's lawyers are scrambling to justify a move that will cost American taxpayers half a trillion dollars. But it doesn't seem as if the justices are buying their claims. And Clarence Thomas delivered a painful blow to Joe's attempt at bribery.
From The Post Millennial:
On Tuesday, Supreme Court justices heard arguments in two cases related to Biden's student loan forgiveness program…

Thomas questioned Prelogar on how the cancellation of student loan debt would differ from grants Congress needs to appropriate, asking, "There's some discussion in the briefs …. that this is in effect a cancellation of a debt, that's really what we're talking about, and that as a cancellation of $400 billion in debt, in effect this is a grant of $400 billion and it runs headlong into Congress' appropriations authority."
It doesn't seem as if Justice Thomas is impressed with Biden's argument on his student loan forgiveness plan. His lawyers said the HEROES Act gave the president the power to "modify" student loans during times of emergency. They are arguing that the pandemic was an emergency and that his "modification" was just canceling the loans.
That seems to be pretty shady logic. And the justices seemed to think so. Given the massive amount of money Biden is trying to "forgive" Thomas brought up a pretty important point. Congress has the power to appropriate funds. It holds the government's purse strings, so to speak.
It takes a lot of work for Congress to approve a budget that is half as large as the amount Biden is trying to forgive. Yet he is trying to do it without the approval of Congress. Does the HEROES Act really let him do that? The Supreme Court doesn't seem to think so.
This comes as experts are exposing Biden's real scheme, bribing students into voting for his party.
From Just the News:
President of Taxpayers Protection Alliance David Williams said Tuesday that President Biden's student loan forgiveness plan was just a strategy to get votes.

"… It's using our tax dollars to bribe people to vote for them."
If the highest court thinks the same thing, they might shut down Biden's student loan program. That will really hamper his attempts at bribing voters.
Key Takeaways:
The Supreme Court is deciding on Biden's student loan cancellation scheme.
Justice Thomas questioned the move, saying only Congress has the power to appropriate money.
Biden intends to forgive nearly half a trillion dollars, without approval from Congress.
Source: The Post Millennial, Just the News