Catholic Biden Sent Spinning by Major Rejection – Report Claims the Late Pope Benedict Failed to Invite Joe to Funeral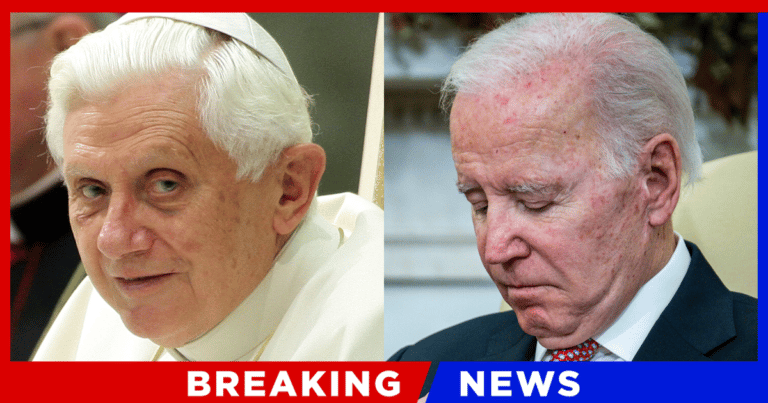 What's Happening:
The Catholic world received the tragic news this week that Pope Benedict XVI, the pope emeritus, passed away at the age of 95. The respected leader will receive an honorable funeral, attended by prominent figures from around the world.
You might expect Joe Biden to be high on the list of people attending Benedict's funeral. After all, not only is he the "president" but he also calls himself a devout Catholic. But after controversial clashes with American bishops, Biden gets the humiliating news from the Vatican itself.
From The Daily Wire:
President Joe Biden was not invited to Thursday's funeral of Pope Benedict XVI, and the U.S. ambassador to Italy will represent America at the pontiff's burial…

It was not clear if the lack of an invitation was a direct snub to Biden, a Catholic who nonetheless is an ardent supporter of abortion. But Jean-Pierre said the situation represented the wishes of the late pope himself.
Ouch, that stings! A pope has died and will be honored at a funeral service this week. Yet Joe Biden, a supposed Catholic, was not invited to the ceremony. And, we found out, this was at the request of the late pope and the Vatican itself!
The Catholic Church apparently invited the U.S. ambassador to Italy, but not the President of the United States. The White House can spin this as much as they like, but it's hard to believe this is unrelated to Biden's anti-Catholic behavior as of late.
After the Supreme Court overturned Roe v. Wade, Biden defied the Catholic Church and promised to codify abortion. The man has become one of the most outspoken supporters of abortion, even though the practice is banned by his religion.
Several U.S. bishops have condemned prominent Catholic Democrats over their pro-choice views. That includes Joe Biden, who has been banned from Communion by at least one bishop. Is it possible this snub is because of Biden's apparent opposition to the Church?
We can't know for sure. But this is the kind of ceremony you'd expect a Catholic president to attend. Yet nobody within the Vatican wanted old Joe. That speaks volumes of what the Church thinks of him.
Key Takeaways:
Joe Biden has not been invited to Pope Benedict XVI's funeral.
The Vatican instead invited the U.S. ambassador to Italy.
This comes as bishops criticized Joe Biden's support for abortion.
Source: The Daily Wire